Panasonic Lumix DMC-LX1 / Leica D-Lux 2
Looking for a serious point-and-shoot digital camera? You should consider the Panasonic Lumix DMC-LX1 or the Leica D-Lux 2 digital cameras. Both digital cameras are the exact same camera, just marketed under two different brands. The Leica comes in a smooth satin silver finish that looks clean and sophisticated. If you go with the Panasonic brand, you could choose among two color models: black and silver. The Panasonic models have an extra finger grip, which helps you hold the camera steady, but cluttered its face slightly. My wife prefers the slick-looking Leica version. Although I like the Leica name, I chose to go with the Panasonic brand to save a few hundred bucks. We chose to go with the black version to distinct our camera from all the silver point-and-shoot digital cameras on the market.
Note
This article is based on my personal experience with my black Panasonic Lumix DMC-LX1 digital camera. But almost all of the article content is applicable to the Leica D-Lux 2.
Both Leica and Panasonic versions of this digital camera comes with the same Leica DC VARIO-ELMARIT 1:2.8-4.9/6.3-25.2 ASPH lens. When I first read the specs on the lens, I was confused and took me a while to figure them out. Apparently, 1:2.8-4.9 stands for the aperture range, while 6.3-25.2 stands for the focal length in millimeters. The lens focal length range is equivalent to 28 to 112 mm on a 35mm film camera. This Leica DC Vario-Elmarit Aspherical lens has a 4x optical zoom and Optical Image Stabilization (OIS). Unlike traditional P&S lenses, this Leica lens has a large optic surface--I could actually clean it with a lens cleaning cloth.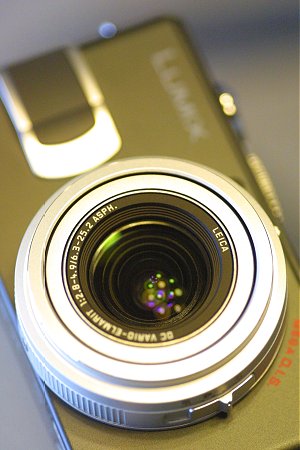 The DMC-LX1 is the first P&S camera that I have seen to have AF/MF switch on the lens. This switch is similar to the switch on SLR lenses. It allows you to switch the lens between auto-focus and manual focus. The AF mode has two settings: AF normal and AF macro. In AF normal mode, the lens can focus from 30 cm to infinity. In AF macro mode, the lens can focus from 5 cm to infinity. Because AF Normal is a subset of AF macro, I always set the lens to AF macro. Perhaps, AF normal focuses a little bit faster.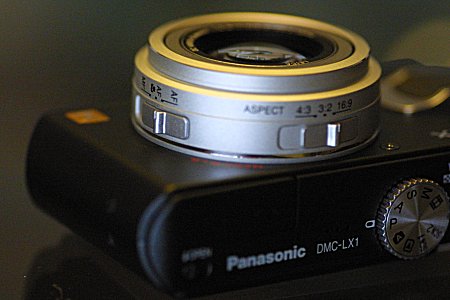 On the DMC-LX1 lens barrel, you can select between 4:3, 3:2, and 16:9 format. The DMC-LX1 supports true wide-screen (16:9) images. Unlike my Sony DCR-HC90 wide-screen camcorder, which chops off the top and bottom of a 3 MP image to produce a 2 MP 16:9 photograph, the DMC-LX1 actually produces full-size 8 MP 16:9 wide-screen photographs. When the camera is switched to 3:2 format, it chops the sides of the image to produce a 7 MP photograph. When switch to 4:3 format, it chops the sides of the image to produce a 6 MP photograph.
The instruction manual flowed logically from section to section. There are few jumps. All of the warnings are located on the same page as the relevant operations. This consistency is a great improvement over the Panasonic PV-GS50S Digital Palmcorder MultiCam Camcorder instruction manual that I have read before.
The DMC-LX1 has a 2.5 inches LCD. A year ago, it would be considered large. But today, 2.5'' is considered standard on many quality digital cameras. Very much like my Sony Cyber-shot DSC-T11 digital camera, the DMC-LX1 has no optical viewfinder. Instead, the large LCD serves a digital viewfinder. The viewfinder is through-the-lens (TTL), so it acts like a SLR camera. Unlike the indented LCD on the Sony DSC-T11, the LCD on the DMC-LX1 is actually taller than its surrounding case. If you place the digital camera's LCD face-down, you risk scratching the LCD. Pushing the ''DISPLAY" button causes the LCD to cycle through 4 modes: informational display, information with histogram, guidelines, and no information. The guidelines help yon compose using the ''Rules of third".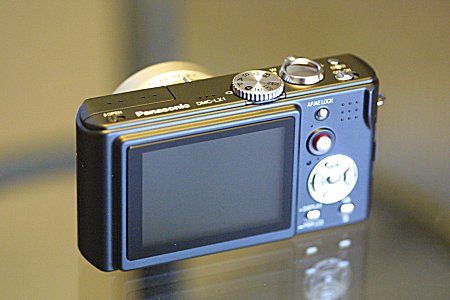 The Mode Dial on the DMC-LX1 is a welcome sight. Like my Canon SLR cameras, the Mode Dial has M, S, A, and P. These modes stand for manual, shutter-priority, aperture-priority, and program, respectively. These modes allows me to expose the scene any way I wish, an often desired feature that is not available on consumer digital cameras. It is one of the reason I picked this point-and-shoot digital camera over any other.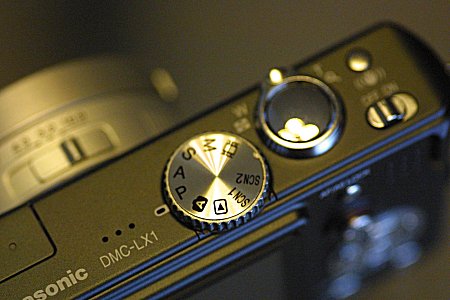 The DMC-LX1 supports many customizable features. One such feature is the ability to turn off the auto power off feature. I receive a lot of email from enthusiasts who want to disable auto power off. I wish all cameras supported the ability to turn it off. Other nice customizable features sought by professionals include ability to turn off auto review, ability to turn off confirmation beeps, and ability to turn off shutter sound.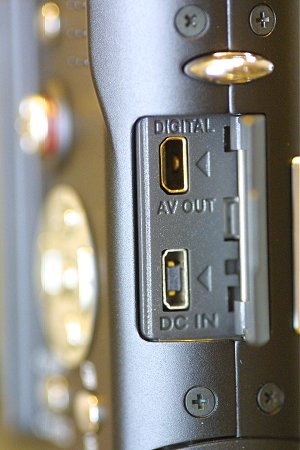 The DMC-LX1 has a combined battery and memory card bay at the bottom of the camera. Unlike the Sony Cyber-shot DSC-T11 digital camera, the DMC-LX1 battery bay has a latch much like Canon EOS digital cameras. So when you open the bay door to change memory card, the battery won't fall out. The memory card is also latch, so the reverse is true as well. The memory card slot can accommodate one SD Card. A 32 MB SD card is included in the package, but could store only one TIFF or one RAW image. You'll definitely need a bigger card to use with this camera. I have also tried miniSD and microSD (TransFlash) cards with this camera. The cards worked fine in SD adapters.
The manual claims that the biggest SD Card that could be used with this camera is 2 GB. MultiMediaCard (MMC) will also work with this camera. However, transfer speed is slower, so you won't be able to shoot videos with MMC. Yet, I'm forced to wonder if the manual is still true if I use a higher-speed MMC Mobile card with an extender adapter. I've tried MMC Mobile cards with this camera for shooting photographs. My advice stay clear of them. They are at least ten times slower than high speed SD Cards. A RAW photograph takes a few second to write to SD Cards, but takes what feels like 30 seconds or more to write to a MMC Mobile card. Memory cards could be formatted in FAT12 or FAT16.
The Panasonic Lumix DMC-LX1 also supports capturing in RAW, TIFF, and JPEG modes, a feature that will make professional photographers jump in joy. There are so few point-and-shoot digital cameras that support the RAW mode. RAW/TIFF modes are the primary reason why I purchased this point-and-shoot digital camera. I need a camera that I can carry in any situation and still is able to produce photographs that are marketable; with JPEG mode, few photos are accepted by stock agencies due to JPEG artifacts. The DMC-LX1 also saves a JPEG version of the picture in RAW/TIFF mode, so now there is no excuse to shoot only JPEG images. Keep in mind that the JPEG saved with RAW/TIFF images are stored in "Standard" (high compression) mode, not "Fine" (low compression) mode. It'd be nice if Panasonic had allowed the photographer to decide what JPEG compression mode the camera uses.
Cross-Reference
Buying the Panasonic Lumix DMC-LX1 is the result of my month-long search for an ultra-compact digital camera that can capture images in RAW or TIFF format (see my various threads on "Digital Cameras that Support RAW and TIFF" and my "Shoot in RAW, Always!" article).
The only problem is that the RAW/TIFF images produced by the Panasonic Lumix DMC-LX1 are huge. A RAW image takes up 16.1 MB, while a TIFF image takes up 23.7 MB. For comparison, my 6 MP Canon EOS Digital Rebel produces RAW files that are approximately 5 MB in size. I suspect the Leica/Panasonic engineers did not design the RAW/TIFF image with compression in mind. My 512 MB memory card could only store 26 photos in RAW mode.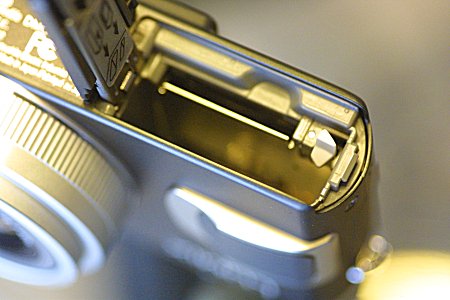 The battery that came with the DMC-LX1 is the Panasonic CGA-S005A. It's a 3.7v 1150mAh lithium-ion battery pack that is commonly found on small consumer electronic devices, such as digital cameras, digital music players, etc. The thing is that each device uses batteries in their own proprietary form-factor, so the devices can't share battery packs. I wish the DMC-LX1 could use standard AAA batteries, allowing me to pick up batteries anywhere.
Panasonic included a battery carrying case in the DMC-LX1 package. What's ironic is that the CGA-S005A is separately packaged in a plastic bag. Couldn't Panasonic have shipped the battery pack in the battery carrying case? After having everything out of the box, it's unlikely that the battery carrying case would ever be used to transport the battery ever again. It's more likely that the battery pack would stay in the camera or in the charger.
The Panasonic DE-A11 Battery Charger that came with the Lumix DMC-LX1 digital camera is a compact travel charger. It is only about four times as big as the Panasonic CGA-S005A batter pack. It has no wires and a retractable AC plug that doesn't get in the way when you pack. It's very convenient and easy to carry around. An LED on the front shows the charging status.
The DMC-LX1 comes with a snap-on lens cap. Because its Leica DC Vario- Elmarit Aspherical lens doesn't have a filter thread, the lens barrel has an indented ring for the clip-on cap. The lens cap is about twice as thick as the indented ring, due to the clip-on mechanism, which is a huge waste of space with virtually no benefit. Panasonic could do better in the future with a simpler slip-on cap. Panasonic supplies a lens cap tether with the camera. After trying it out, I decided against using it. The digital camera itself is so small and light that the swinging lens cap caused the digital camera to "float" around while I shoot. I keep the lens cap out of the way, in my pocket, when I shoot, just like my SLR lens caps.
Note
Leica has a spotting scope adapter called Leica Digital Adapter 2. This adapter allows mounting of C-Lux 1 or D-Lux 2 to any Leica Televid spotting scope. There isn't an equivalent adapter under the Panasonic Brand. In the future, I plan to try this adapter out with my Panasonic Lumix DMC-LX1 and various accessory lenses. Look for those articles in the future.
When you turn the DMC-LX1 on, it extend its long lens barrel. I have constantly wondered what would happen if I forget to take the lens cap off and turn the camera on. Then it actually happened. The camera gave me a "REMOVE LENS CAP AND PRESS >BUTTON" message. I am glad Panasonic thought of this possibility and designed for it.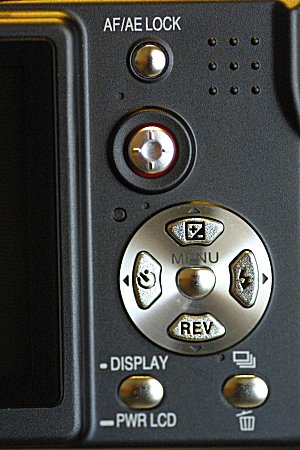 The Panasonic Lumix DMC-LX1 doesn't come with a carrying pouch. Instead of getting a pouch made specifically for the DMC-LX1, I opted to use an old Quantaray camera pouch. I had purchased this pouch years ago for my Canon Elph Jr. It was just the right size for the Elph and a spare APS film canister. The Quantaray pouch is sized perfectly for the DMC-LX1 without the lens cap. With the lens cap the pouch is slightly bulged, but manageable. There is enough space for the battery carrying case, which I use for carrying extra SD Cards.
Overall, the Panasonic Lumix DMC-LX1 is an extremely capable camera. I have been using it for a few weeks now, ever since my wife bought it for me. And it has been a joy to use. The camera can even focus quite close to get macro shots. The long extended lens embarrasses me in intimate situations, because I like to be discreet. It is, however, manageable if people expect their photos to be taken. It's easy to carry around, but the protruding lens barrel (when off) cause the digital camera to be uncomfortable in my pants pocket. I wouldn't mind loosing the zoom capability for ease of portability.
Related Links