Add Comment |
Related Links |
TrackBack

Related Content
Memory Stick Pro in a CompactFlash slot
Hi! Came accross your page looking for something similar. I wanted to ask, has anyone found anything to read a MS Pro (1GB) card in a CF slot? I need something that slots in realitively completely as I found one adapter but it has a "ridge" (see pic) and I can't push it in far enough into my Personal Video recorder (NHJ MPM-202) for the pins to fully connect. It doesn't matter if it sticks out.

Attached Image: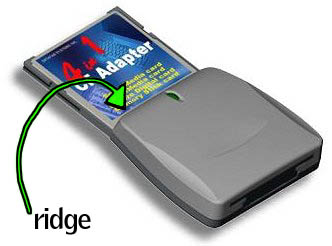 adapter.jpg
chris pech
Fri, 21 Apr 2006 05:35:49 -0700
Add Comment |
Related Links |
TrackBack

Related Content
Did your message disappear? Read the Forums FAQ.
TrackBack only accepted from WebSite-X Suite web sites. Do not submit TrackBacks from other sites.
Send Ping | TrackBack URL | Spam Control
Title: Sony MSAC-MCF1N Memory Stick Duo Adaptor for CompactFlash Slot
Weblog: Camera Hacker
Tracked: Fri, 21 Apr 2006 11:08:28 -0700
Spam Control | * indicates required field
Messages, files, and images copyright by respective owners.