Add Comment |

Related Links |

TrackBack


Related Content
Building a Car Camera Mount
Could you post some photos taken with the camera in that position? I'm having trouble visualizing the end product, if you will.
kickstand
Sun Feb 20 18:40:29 PST 2005
Sure thing. I happen to have some pictures available for a continuation of that article . . . Here is a picture of my gf driving behind me on the race track.
It was shot with my Panasonic PV-GS50S MiniDV camcorder in video mode. Then I took a pictuer snapshot of the video recording onto the SD Card.
Attached Image: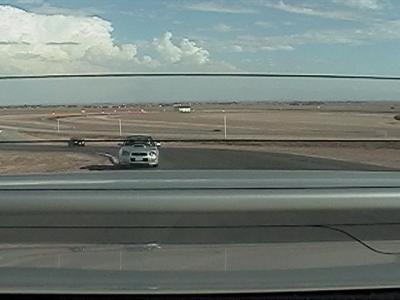 STi at Streets of Willow.jpg
Chieh Cheng
Mon Feb 21 11:28:51 PST 2005
I was reading your article. To reduce the glare, why don't you cover the plate with a cloth, or carpet sample.
Just a Viewer
Sat Feb 26 08:56:00 PST 2005
That's a really good idea. I hadn't thought of using a piece of fabric. Thanks.
Chieh Cheng
Sat Feb 26 20:17:47 PST 2005
Is the camera pretty stable at speed and over bumps? I had rigged a camera mount in my car and it was a nausiating ride to watch.
Thanks!
Matt G
Fri Mar 11 13:31:52 PST 2005
cool stuff
joe
Sun, 26 Jun 2005 21:48:55 -0700
Hmm.. Those instructions won't work for a wagon. Bolting anything onto the plastic/leather dash wouldn't be good either.
S.
Sun, 23 Oct 2005 19:37:52 -0700
is there a portable mount for vehicles?
I often change cars and need a portable device that is universal.
Gabbster
GABBSTER
Mon, 23 Jan 2006 14:45:39 -0800
nice job Chien
but i want to set up a vid camera with a screen on the dash to continously keep my eye out for the troopers. I would probably mount it to the roof to hide it . but how would you keep the camera running continously? and i guess i'd need some sort of ac adapter. what do you think?
David
Wed, 25 Jan 2006 11:02:27 -0800
Chieh, wonderful instructions. A couple folks in my car club will definately be asking me for one of these.
To answer one of the questions posed... (and to perhaps give you an idea as well Chieh)
David, a low-wattage power inverter (AC to DC) can be used to power/recharge the camera. The ones that plug directly into the cigarette lighter socket should be plenty. Or... if you are adept with 12v electronics, you can wire in a second (or third) plug. That one can be run off a relay triggered from a wire that is hot in run only (ACC wire that goes to the stereo or the windshield wiper fuse). That way if you forget to unplug the adapter, it shuts off when the car is off and the key removed. HTH
Rob
Mon, 13 Feb 2006 22:14:28 -0800
Hello, and what a great idea. I love to see at hom einnovation to create the things we need with little spending. I did the same but I can't quite figure out the next step. Attached is a link to my in-car video mount set up. Basically, I used a 13" piece of flat 2" wide metal and had a crafstman bend it to make a 6" top. 3/4" center and 6" bottom. Basically it was a "sleeve" if you will to snugly fit into my speaker box port. It would snugly fit over the top of teh box of the port and snugly fit down under and into the box itself. However, my box is canted upwards by small blocks underneath for better sound quality. Now I need to figur eout a way to change my camera angle pointing downward at a 30 degree angle to a perfect "straight out" direction. I do have a wide angle lens on my camera which see everything anyways, but I don't like watching my videos with that constant head tilted down, eyes canted upwards look.
What do you suggest to help level out my camera to have a straight out facing stance? G
GR8 WHITE
Sat, 30 Sep 2006 23:49:16 -0700
There is a company that makes a suction cup camera mount called the Cleat. You can mount your camera inside or outside your car on the window or other smooth surfaces. It is portable too. It is pretty sturdy because it pumps all the air out between the suction pad and the surface so it has a tight hold. It is on Amazon for about $50.
Jesse
Thu, 19 Oct 2006 10:38:51 -0700
I don't suggest one of those cheap suction cup moounts, they tend to shake - remember you're on a rubber peice and the picture will look bouncy.
Justin
Thu, 31 May 2007 20:21:16 -0700
I make these all the time for people. Ranging from the $2 mounts to upwards of $100 (due to use of certain materials like mild steel, aluminum, fiberglass, aluminum covered with carbon fiber for better looks)
His idea is good if you can utilize that specific area. Hatchbacks, trucks, and other vehicals dont have those mounts. My specailty is the headrest on seats. For a camera like a digital SLR having the camera in the rear deck is honestly a pain in the a$$ and useless. Why? its too far back, cant adjust in car if need be, camera shuts down if you dont touch it for a bit, cant do really anything (limited if u have a remote)
For a camcorder, its ok.
I specificly got 3 types of headrest mounts i make. And honestly for a few situations where i didnt have any sitting around, for like $2 i whipped one together that was sturdy, stable and good enough for what was needed (2 screws with wing nuts, 2 pieces of wood, cut the wood, drill 3 holes, and a matching length bolt to secure the cam to the unit. Maybe it lacked a few things that my others had (mainly adjustability). But in a crunch it worked perfectly. It couldnt be ajusted on the unit itself like my other ones i made, was fixed basicly except for side-to-side motion. But since i am a smart cookie lol, i just used the seat to adjust to get the proper angles i wanted. Success!
DIY build-ups are the best, cheapest and most satisfying in my own opinion.
VWguy
Wed, 18 Jul 2007 16:32:59 +0000
These posts are inspiring!
I need a portable, non-permanent solution for a rental car mount for a camcorder behind the front seats. We'll be driving cross-country and I want to frame the driver & passenger & the view out the windshield to record the entire journey. I don't know the dimensions of the SUV/car, as we haven't rented it yet, and I'm still shopping around for a camcorder, but a universal tripod mount should suffice. Suggestions?
Thanks!
digitalgoddess
Fri, 10 Aug 2007 06:29:52 +0000
Good idea!
P.S. A U realy girl?

Memmorium
Fri, 11 Apr 2008 14:41:39 +0000
Wow, digitalgoddess, I completely missed your post. I've documented a headrest camera mount in my Hacking Digital Cameras book. That's sufficient for pretty much any camera load. However, since you don't know the dimension of your rental vehicle, that kinda puts damper on thing. One idea is to make the headrest mount first, but do not drill the head rest holes. Bring a drill and drill bit set with you on your trip. After getting the rental car, drill out the holes to match.
What kind of camera load are you planning on using? Maybe one of the suction cup camera mounts will be sufficient for a small camera.
Chieh Cheng
Fri, 11 Apr 2008 17:41:34 +0000
Why not use the leg from an old or cheap tripod? Drill your mounting hardware holes on either side of the slide adjustment with enough room (at least an inch or so of adjustment)to allow it to be adjusted for different widths of headrest. Then you could swap it in and out no matter what the headrest dimensions. Cut it down to size and rubber cap the ends.
Mike
Mon, 28 Dec 2009 18:16:18 +0000

Add Comment |

Related Links |

TrackBack


Related Content
Did your message disappear? Read the Forums FAQ.
Spam Control | * indicates required field
TrackBack only accepted from WebSite-X Suite web sites. Do not submit TrackBacks from other sites.
Send Ping | TrackBack URL | Spam Control
No TrackBacks yet. TrackBack can be used to link this thread to your weblog, or link your weblog to this thread. In addition, TrackBack can be used as a form of remote commenting. Rather than posting the comment directly on this thread, you can posts it on your own weblog. Then have your weblog sends a TrackBack ping to the TrackBack URL, so that your post would show up here.
Messages, files, and images copyright by respective owners.