Add Comment |
Related Links |
TrackBack

Related Content
Lens Adapter for Sony DSC-P92
I am looking for one of the Sony VAD-PEA adapter for my DCS-P92. Sony has discontinued the adapter and I cannot find it anywhere. Please help if you can.
Kelley
Tue Dec 7 20:12:48 PST 2004
I am also looking for one of the Sony VAD-PEA adapter for my camera. If anyone has a source for obtaining one please send me that info via email. Thanks!
Paul
Thu Dec 23 13:58:09 PST 2004
Add me to the list looking for a VAD-PEA adapter.
Ordered one from CDW, and it's on "backorder". They tell me that they expect it in within the week, which I doubt since Sony has discontinued. If I get it, I'll let you both know.
It's pretty sad that Sony has already stopped supporting a camera that I bought only a year and a half ago. I got the telephoto lens for Christmas, and it's completely worthless without the adapter. Now the store won't even take the lens a back because of their return policy. Sony will be hearing from me on this.
Jay Wilson
Fri Jan 7 08:30:24 PST 2005
I talked to Sony today and they are working to add this item back...so they say. If anyone should find on pleae let me know. I'm stuck with lens I can't use. Thanks
Bobby Butzke
Mon Jan 10 09:55:17 PST 2005
I am also stuck with a lens without an adaptor. Any info towards getting the adaptor would be greatly appreciated.
john
Tue Jan 11 17:28:19 PST 2005
If anyone does find a VAD-PEA lens adaptor for a sony DSC-P72 please let me
know. I'm also looking for one.
BROTHER-J
Mon Jan 17 02:07:22 PST 2005
I am trying desperately to locate the Sony VAD-PEA lens adapter without success: apparently it's been discontinued! But I purchased a teleconverter lens for my DSC-P92 camera without realising I need this specific lens adapter to attach it! Is there anyone out there who can help this gal out?? Perhaps there are some alternative solutions? Many thanks. Jackie in the UK

Jackie Swann
Thu Mar 10 08:56:27 PST 2005
Try your local photography shops. I have heard that some users have luck with them. You can also cut and glue a PVC tube to your camera to use as an adapter.
Chieh Cheng
Thu Mar 10 21:53:49 PST 2005
Hi folks,
I know how hard it is to find the VAD PEA adaptor, been there myself. Just to let you know, there's one on auction at ebay.co.uk at the moment. This is where I ended up sourcing one from.
Hope this helps!!!
Wee Leo
Fri Mar 11 09:52:09 PST 2005
Hi just to let others know out there, there is a vad pea adapter for sale on ebay. This is where I ended up sourcing mine.
wee leo
Mon Mar 14 23:52:33 PST 2005
Thanks, wee! They look quite interesting (photo attached). I guess they are made by third-party. They are a little pricey as well . . . but at least there is now a lens adapter source for older Sony digital cameras.
Attached Image: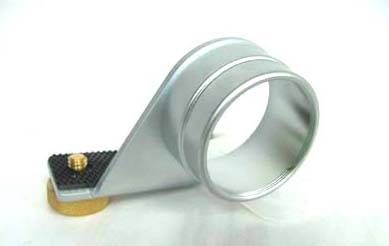 REPLACE_TUBE_SONY_FOR_P10.jpg
Chieh Cheng
Tue Mar 15 10:19:31 PST 2005
37mm lens thread . . . made out of silver aluminum.
Attached Image: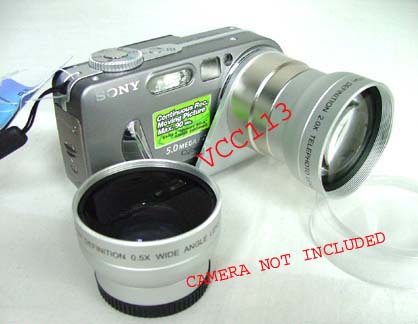 DCPLUSTUBE_WITHCAMERA_LENSKIT.jpg
Chieh Cheng
Tue Mar 15 10:20:40 PST 2005
I need help in getting a VAD PEA as well. I am stuck with a lens witout the product. Any suggestions?
Dan
Dan Mills
Wed Apr 20 10:02:33 PDT 2005
Alas, the dreaded VAD-PEA search continues. TriState (NY) is out as well. I guess we'll keep lookin'. Write if anyone finds any. Thx....
fevercity
Tue Apr 26 23:58:04 PDT 2005
another one looking for the VAD-PEA Adapter for my sony P72. why done we all send emails to sony requesting this item at the same time so they can made them again. We all are desperate for this item. Lets go to sony and complain.
JULIO
Fri May 20 10:15:35 PDT 2005
ah-oh looks like I'm going to have problems getting this vad-pea... I agree with the last post let's gang up on sony, and if any of you already got it, gang up on them anyway 'cause they look like they are sellable
Peter
Fri, 10 Jun 2005 20:32:35 -0700
If the VAD PEA is the main subject then that subheading is basically "nearly impossible to find". I would check ebay regularly.
Aaron Wood
Sun, 10 Jul 2005 17:59:26 -0700
Peed off
I purchased a Sony DSC-P72 a little over a year ago & now I am unable to purchase the lens adaptor. I feel that Sony has a lot to answer for,in bringing out a digital camera (worth $500)& not providing adequate accessories to compliment their product.When we purchased the camera we were told by the sales person, that there were accessories that could be purchased at a later date.
Michelle Austin
Mon, 15 Aug 2005 19:14:04 -0700
Any idea if the adapters you showed (that appear to have the functionality of the VAD-PEA, and would fit a DSC-P72 camera) are available anywhere?
Steve
Wed, 16 Aug 2006 09:58:11 -0700
I think it will work. But they are probably impossible to find now, as the market for them is gone. If you don't mind modifying your camera, you can make a lens adapter out of PVC tube and glue it to your camera (as described in the "Hacking Digital Cameras" book).
Chieh Cheng
Wed, 16 Aug 2006 15:06:55 -0700
Many thanks Chieh for your gracious follow-up--really appreciate your taking the time. Where might I find the "Hacking Digital Cameras" book?
Steve
Thu, 17 Aug 2006 15:09:00 -0700
Oops--looks like I just found it:
Steve
Thu, 17 Aug 2006 15:10:13 -0700
Hi
I found a VAD-PEA adapter on EBay. I bought it from a fellow in China. His Seller name is internet-time. It cost me 23.00 American + 20.00 for shipping to Canada. You might want to try this guy.
Ron
Ron Aubie
Tue, 22 Aug 2006 20:04:30 -0700
I have same problem as everyone else. Sony doesn't tell you this when you talk to an analyst to solve our problem they have to know it is a major concern for us. any one help me
ROB
Fri, 08 Sep 2006 09:38:47 -0700
Add Comment |
Related Links |
TrackBack

Related Content
Did your message disappear? Read the Forums FAQ.
Spam Control | * indicates required field
TrackBack only accepted from WebSite-X Suite web sites. Do not submit TrackBacks from other sites.
Send Ping | TrackBack URL | Spam Control
No TrackBacks yet. TrackBack can be used to link this thread to your weblog, or link your weblog to this thread. In addition, TrackBack can be used as a form of remote commenting. Rather than posting the comment directly on this thread, you can posts it on your own weblog. Then have your weblog sends a TrackBack ping to the TrackBack URL, so that your post would show up here.
Messages, files, and images copyright by respective owners.