Hacking Digital Cameras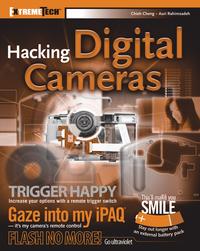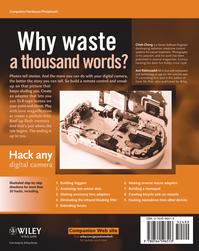 Table of Contents | List of Sidebars | Free Chapter | Index
HDC Forum | Read and Post Reviews!
Get unique digital photographs with this ultimate how-to guide.
Hacking Digital Cameras is the only DIY book for digital photographers on the market. It focuses on customizing camera functionality, increasing flexibility, and adding the convenience to help you produce cool photographs. With this book, you will have fun capturing the images you never thought possible. Whatever your level of photographic experience, you will find that Hacking Digital Cameras is easy to read and quick to understand. With step-by-step instructions, which save you time and money, you will learn to safely modify your camera bodies, lenses, and accessories to achieve desired results. The book also includes photography theories relevant for each hack to get you up to speed quickly. Use your camera gears in brand new ways! Written by the creator of www.CameraHacker.com, Hacking Digital Cameras is the book that will benefit your digital camera equipment the most. Give it a read, guarantee you'll love it.
See it at a bookstore near you!
Buy it from major on-line retailers, such as
Amazon, Barnes & Noble, Books-A-Million, Borders, Harvard Book Store, Wiley
Available worldwide from Amazon in
Canada
, France, Germany, Japan, United Kingdom
Purchase it in electronic (e-book) format from Wiley.
Available in virtually every country.
Your reference is very important to us. Tell your friends about the Hacking Digital Cameras book and about the Camera Hacker web site. We, and our readers, appreciate your support.