Revision: 20080108_225539 | All Revisions
---
Canon EOS Digital Rebel XTi vs. Canon EOS-1Ds Mark III
Does the name of this article sound controversial? Why would anyone compare the lowest entry-level digital camera built for consumers to the top-of-the-line flagship model built for professionals?
The Canon EOS Digital Rebel XTi is a low-cost digital SLR camera that many camera enthusiasts can afford to acquire and capture they precious memory with. It's low price entry allows many folks to test the Single Lens Reflex (SLR) water without spending months of mortgage payments on a digital camera that may be too big to carry around all the time. And it's a good stepping stone to the more advanced digital SLR camera if photography becomes a passion.
The Canon EOS-1Ds Mark III, on the other hand, is a beast in comparison. Just looking at the massive digital SLR camera causes most folks to shy away. And it's no nonsense, no frill matte body far from screams out, "look at me, I'm a digital camera!" At the cost of several time the amount of a single house mortgage payment, most folks can't even consider this camera unless their wage depends on it.
So between these two digital cameras which should you buy? That is the real question. And that is why this controversial comparison makes perfect sense. For a lot of folks, the question is not necessarily about whether to buy a Canon or a Nikon, but is whether to buy the lowest-end or the highest-end. If the pro-model lacks the advanced features, how would it justify the price; therefore, pricing isn't everything.
A good friend pointed this out to me when he asked about the difference between the entry-level and the pro-level digital camera. How would he know which one he wants or needs. So in this article, I will go into an in-depth analysis on the difference between the two ultimate models at the far ends of each extreme.
Cost
The cost of the cameras are probably the most transparent factor. Most enthusiasts will pick the Digital Rebel XTi over the EOS-1Ds Mark III simply because of the cost. There is nothing wrong with that; we all buy what we can afford. But as I mentioned before, cost isn't everything.
At the time of this writing, you can buy a Digital Rebel XTi body for $529.65 off Amazon (see "Related Links" below). And you can buy a EOS-1Ds Mark III for $4,429.67 off Amazon (see "Related Links" below). That's a huge different. The Digital Rebel XTi is just over 1/10th the cost of the EOS-1Ds Mark III. Does the professional model warrant that much premium over the lower-end model? Let's see based on the other differences.
Megapixel
The Digital Rebel XTi has a 10.1 MP sensor. That's far more pixels than previous generation digital SLR camera; even when compared to the mid-range models. But the EOS-1Ds Mark III comes with a whopping 21.1-megapixel sensor. That's twice as many pixels as the Digital Rebel XTi.
Do you need that many pixels? Well, it depends on what you are doing. If you are just shooting for fun, then 10.1 MP is probably more than your needs. On the other hand, if photography is your business, more megapixels may mean more money. For example, in the stock photography world, the photograph license is sold by the image size. The larger the image, the higher the cost for the license. So for the same image, you can potentially make more in the commercial world..
Sensor Size and Magnification
The Digital Rebel XTi has a APS-C size sensor. This sensor is smaller than the de-facto standard of the 35mm film. Due to the reduction in size, using the same lens as the 35mm camera, the magnification is 1.6x greater. For example, a 50mm focal length lens becomes 80mm on the Digital Rebel XTi. That's not so bad if you started photography without ever having shot with a 35mm camera before. But if you have, shooting with 1.6x magnification will really change your shooting style. With this smaller sensor, a 20mm wide-angle lens becomes 32mm. And now wide-angle shots seems extremely difficult to obtain.
On the other hand, EOS-1Ds Mark III has a full-frame sensor. The term full-frame is used to describe a digital sensor that is the same size as the 35mm film. With a full-frame sensor camera, you shoot digitally just like you do with 35mm film. There is no need to change your shooting style. You'll be able to switch back-and-forth with your 35mm film camera and not know a difference. This is almost a necessity for professionals that need to shoot both film and digital images.
Lens
The Digital Rebel XTi can use all of the Canon EF 35mm lenses; except with a 1.6x magnification as mentioned in the previous section. In addition, it can also use Canon EF-S series of lenses. These lenses are specially designed to work with the smaller imager size. These EF-S lenses will not work on full-frame sensors. Therefore, there are more lenses to choose from for the Digital Rebel XTi. But the question is, should you buy EF-S lenses? They won't work if you ever decide to step-up to a full-frame DSLR in the future.
The EOS-1Ds Mark III can use all of the Canon EF 35mm lenses. But it cannot use the Canon EF-S lenses, because those lenses are designed for the smaller sensors. So in theory, there are less lenses to choose from for the EOS-1Ds Mark III. But so far, all of the EF-S lenses seems to be duplication the range and functionality of the EF lenses. Therefore, whether there is a need to use EF-S lenses are up in the air.
Kit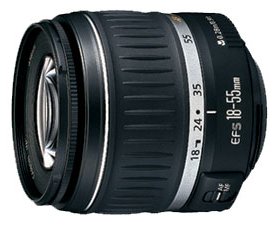 You can buy the Digital Rebel XTi in a kit, which comes with the Canon EF-S 18-55mm f/3.5-5.6 lens. It's not a bad lens to start, especially the 18mm is going to be equivalent to 28.8mm on the Digital Rebel XTi. It's probably one of the most affordable wide-angle lens you can find for the price. This combination is excellent for folks who are just getting into photography and not sure what lenses fit their shooting style. Too bad a lens hood for this lens is not included in the kit. Be sure to pick one up if you do buy the kit.
There is no kits for the EOS-1Ds Mark III. Canon assumes that the working professional already knows what lenses suits their need. That's probably true. But for someone who is just getting into photography, a bit of research has to be done in this area. (See Lens Reviews in other parts of this web site.)
Flash
The Digital Rebel XTi has a built-in flash. You can use it to brighten up your image, provide fill-flash, or just blind party people with it. Despite the joke I just made, having a built-in flash really comes in handy sometimes when you left your external flash at home. Or if you find out later that you need a fill when you didn't think you did earlier. When you are done, retract the flash and it disappears. The retractable flash is really handy and convenient.
Most working professionals consider the built-in flash to be quite useless. And Canon agrees. Therefore, the EOS-1Ds Mark III does not have a built-in flash. If you want to use a flash at all, you'll need to shell out some money for an external unit, like the Canon Speedlite 580EX II. That means you will really be standing out at the next shindig. If you are just shooting for fun and you don't want to stand out in a party, you might want to consider the Digital Rebel XTi instead.
In addition, the EOS-1Ds Mark III provides a PC Terminal interface for connecting external strobes and spots. The PC Terminal interface has ability to accept sync line voltages up to 250V maximum. The built-in PC Terminal make external interfacing to studio lighting a piece of cake.
Storage
The Digital Rebel XTi stores image files to a CompactFlash Type I or CompactFlash Type II card. The EOS-1Ds Mark III can do the same, in addition, to being able to store to a SD Card in an entirely separate slot. If you want to store images to a SD Card on the Digital Rebel XTi, you'll have to get a memory card adapter (search for them on this web site).
LCD
Both cameras provides LCD's on the back-size for reviewing photos and changing settings. The Digital Rebel XTi has a 2.5" screen, while the EOS-1Ds Mark III has a 3" screen. In both cases, the image coverage is 100%.
Style
As I mentioned before the EOS-1Ds Mark III is a no-nonsense model. Either you take it or you leave it. The Digital Rebel XTi, on the other hand, is built for your enjoyment. There are two different Digital Rebel XTi models: the black and the silver. You can literally show off your shiny new gadget with the silver model. Just keep in mind that the optional vertical battery grip only comes in black. But even with the black vertical battery grip, the silver Digital Rebel XTi still looks pretty good.
Size and Weight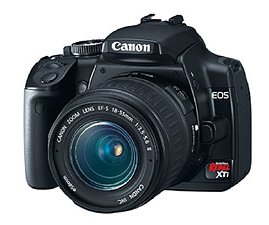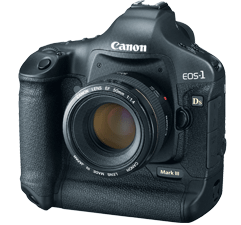 The Digital Rebel XTi is much smaller and lighter than the EOS-1Ds Mark III. It's much easier to stuff into your travel bags and backpacks. And if you do any amount of hiking, you'll appreciate the weight saving of the Digital Rebel XTi. Dimensions (W x H x D): 4.98 x 3.71 x 2.56 in./126.5 x 94.2 x 65mm. Weight: 18 oz./510g (body only).
The EOS-1Ds Mark III is almost twice as big and more than twice as heavy as the Digital Rebel XTi. With a built-in vertical battery grip, you can't even pull it off to reduce the size. And if you need a flash, which isn't built-in to the camera, you'll be packing an external flash with its own sets of batteries. The good news, like free weights, you'll increase the muscle mass of your right arm in no time. Add a professional Canon EF 600mm f/4L IS USM lens and you'll really be talking about exercising while you photograph. Dimensions (W x H x D): 6.1 x 6.3 x 3.1 in./156 x 159.6 x 79.9mm. Weight: 42.5 oz./1,205g.
Related Links