How to extend the RS60-E3 remote switch?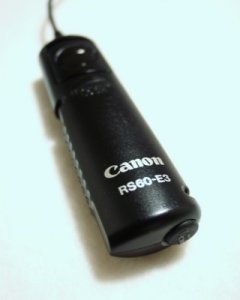 The Canon RS60-E3 remote switch is a corded remote shutter release for the Canon EOS Rebel G, X, XS, Elan II, Elan IIe, IX, IX Lite, and Digital Rebel (300D) cameras. It has a 2-feet cable and replicating all the function of the cameras' shutter release button.
The remote shutter release is excellent at eliminating camera shake from the photographer's hands. Unfortunately, it is less accommadating than the wire-less remote provided for other cameras; no self-portait of more than a few feet away, no group shots to include self, and no discrete shots of wild animals.
Fortunately, the Canon RS60-E3 remote switch is a simple device that can be easily extended using easy to obtain and readily available parts. Best of all, there is no need to take apart, or modifying, the original remote.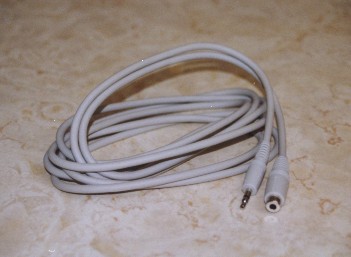 The RS60-E3 remote switch uses a standard 2.5 mm (submini) audio head and plugs into a 2.5 mm jack on some low-end models of the Canon EOS camera series. Therefore, the remote can be easily extended using standard 2.5 mm parts available from the local RadioShack
.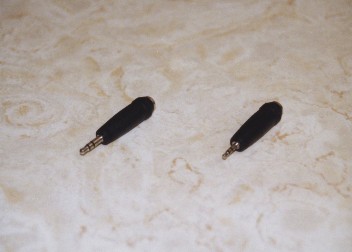 Extension Parts
RadioShack 274-397 Audio Adapter

Accept 3/32" (submini) stereo plug
Fits 1/8" (mini stereo jack
Price - $2.99 (as of 1998-12-22)

RadioShack 274-373A Headphone Adapter

Accept 1/8" (3.5mm) stereo mini plug to
fit 3/32" (2.5mm) stereo submini jack
Price - $2.99 (as of 1998-12-22)

RadioShack 42-2492 Heavy-Duty Extension Cable

8-Ft (2.4m), Shielded 24 Gauge
1/8" stereo plug to 1/8" stereo jack
Price - $6.99 (as of 1998-12-22)
Take this part list to Radio Shack and they will be able to find the parts for you. If you have a hard time finding these parts, I am willing to supply you these parts with additional service and shipping fee.
Best Buy also sells a set of extension cable and converter called "Hot Ear Gear". It is a product distributed by Recoton and contains a coiled extension cord that extends up to 25 feet.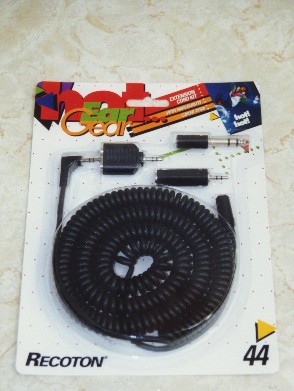 Some examples of using the extension
cool skate - Canon Rebel G, Sigma 28-80mm f/3.5-5.6, Fuji Superia X-Tra 800.
Related Links
Related links