Wireless Trigger Your Cameras with a Remote Flash Trigger
A little while back, I ordered a wireless flash trigger off eBay. It only costed me about $20 bucks. With shipping from China, it came out to be less than $30! I never thought I'd be able to get a wireless flash trigger for that price. The flash trigger is the YHRD-616 Studio Flashlight Remote Control Trigger made by Yinhe Technology Development Co., LTD.
I don't use flash that much, so a wireless flash trigger isn't that important to me. Plus, I already have several slave flash triggers. The real reason why I bought this wireless flash trigger is because I wanted to see if I can trigger my Canon EOS cameras with it. You see, when I saw this flash trigger on eBay, I noticed that it has several standard audio connectors. The Canon EOS and Pentax SLR cameras have 2.5mm (sub-mini) audio jacks, used for triggering the shutter. With simple adapters, I could easily plug the wireless receiver into my Canon EOS SLR cameras. This article will document my progress.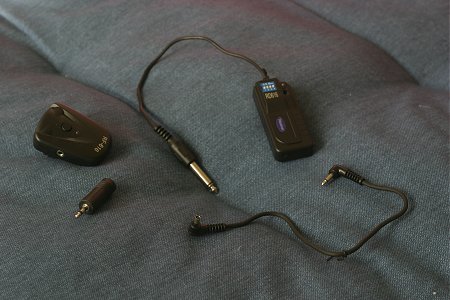 The YHRD-616 wireless flash trigger come with five components:
The 16-channel wireless remote with a test button
The 16-channel wireless receiver with a on/off switch, a PC terminal jack, and a 1/4" mono audio plug
PC terminal plug, to 3.5mm mono audio plug adapter
1/4" mono audio jack to 3.5mm mono audio plug adapter
With a 3.5mm audio jack to a 2.5mm audio plug from Radio Shack (see "How to extend the RS60-E3 remote switch?" article elsewhere on this site), I can easily plug the wireless receiver into the Canon EOS trigger port. I only had a stereo adapter on hand, so that's what I used.
Canon EOS IX
I tested the wireless receiver on the Canon EOS IX APS camera first. That was the only EOS camera that didn't have any film in it. Without lens, the camera was trigged as soon as I pressed the test button on the YHRD-616 remote. That's a good sign.
But what about with EF lenses? I know that the mono to stereo conversion is going to make force auto-focus. With the lens on the camera in AF mode, the receiver forces the lens to auto-focus continuously. Pressing the test button triggered the shutter. Excellent!
Canon EOS Digital Rebel
After getting the wireless flash trigger to work with the Canon EOS IX, I tried it on my Digital Rebel. I shoot mostly digital now, so this is the set-up I would like to use.
The stereo adapter forced the Digital Rebel to focus like the Canon EOS IX, but the strange thing is that the test button would not cause the Digital Rebel to fire. Does the Digital Rebel have a longer remote trigger sense? Not sure.
Triggering Two Cameras Wirelessly
Because the YHRD-616 wireless receiver has both a 1/4" plug and a PC terminal jack, I suspect that I can even trigger two cameras wirelessly. This section will be filled in later, when I have time to try triggering two cameras at once.
Related Links