Super Mini Switch - A RS60-E3 Replacement
Nick Bencivengo created this RS60-E3 replacement, for his Canon EOS 300D, after being inspired by the circuitry presented on this web-page. He wanted something really small, compared to the one presented on that web-site. So he found an AAA battery case at Radio Shack and removed the guts to make room for the wiring. He felt that most of the project cases were way too big!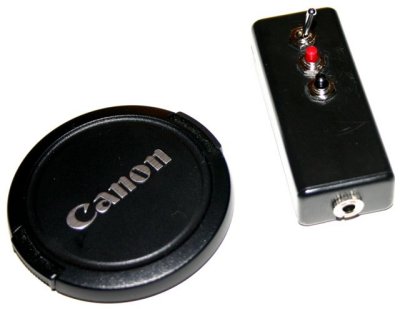 A 58mm lens cap is shown in the pictures. The dimensions of the switch are 1" wide, 0.5" deep, and 2.5" long.
He also added a 1/8" panel-mount jack on the end so the cable can be removed completely or replaced with varying lengths depending on need. The switch and buttons were the smallest he could find (loves that Radio Shack).
Parts List
Nick picked up these items at the RadioShack
.
1 RadioShack 270-414 Battery Case
2 RadioShack 275-1571 Momentary Switches
1 RadioShack 275-612 Toggle Switch
1 RadioShack 274-246 Panel Mount Jack
1 RadioShack 42-2387 6' 1/8" stereo patch
1 RadioShack 274-244 3/32" Audio Connector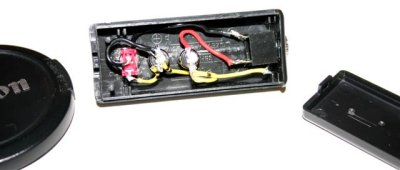 Clip one end off the patch cable and added the 3/32 connector for the camera side. An alternative is to use an adapter on the end of the standard patch cable.
Note: Be sure to mount the panel-mount jack on the end of the case with the open rectangle where the cover tab locks. Ensure the panel-mount jack is below the hole and centered on the case of the cover won't close.
Related Links