Add Comment |
Related Links |
TrackBack

Related Content
Some thoughts on the Sony DCR-TRV350 Digital8 Handycam
Very good and through review of the TRV350. I think I had 3 comments as I read your review.
1. Yes, 12 bit audio mode leaves room on the tape for a 2nd 12 bit stereo channel BUT as far as I know, NO D8 camcorder has ever had the ability to record audio on that reserved space. There is no "audio dub" feature in any D8 camcorder that I know about. I have: TRV310, TRV320, TRV720 & TRV830. Perhaps last years x4x or this years x5x can dub audio but I doubt it?
2. The LANC jack is primarily used to "Remote Control" your camcorder from an external controller. There are several on the market now that can control most of the D8 VCR functions along with zoom and maybe focus?
3. I think Tape Resources comment about "don't expect the same video and audio quality from a Video8 tape is wrong. You should expect the exact same quality. But the tape might only play in the camcorder that recorded it. After a few months of mechanical wear, even that camcorder might not play it back?
Dave
Dave Casperson
Thu Sep 25 22:30:30 PDT 2003
I read your review on the dcr trv350, very good btw. You mentioned something that most others do not mention and that is the interval recording option. How in the world do you find out which camcorders have this option ? I know the highend cameras have it, but you don't see it in the specs ? Do you know of any other low priced Sonys that have it this feature ? thx, rudy
rudy
Tue Nov 25 10:44:11 PST 2003
Your best bet is to look in the user manuals of the camcorders that you are interested in. Sony places their manuals on-line. You can find the manuals by going to www.SonyStyle.com and click on "Product Service & Support".
Based on my DCR-TRV350 manual, the following Sony models have the interval recording capability:
DCR-TRV150
DCR-TRV250
DCR-TRV350
DCR-TRV351
Hope that helps.
Chieh
Tue Nov 25 11:05:56 PST 2003
Hi,
Liked your write up and your impressions. I started looking for a analog-DV converter for my VHS tapes and some 8mm tapes. I have an older Sony 8mm.
Then it occurred to me that I could upgrade the 8mm to DCRTRV350 Digital8 and get the analog-DV converter included. Have couple of questions:
1. I have not seen the length of recording on an 8mm tape, Do you get 120min like in the analog format on the same tape, or is Digital 8 more efficient?
2. If I use the pass-through mode for analog-DV conversion, does the DCRTRV350 have the Microvision 1 an 2 protection? Obviously I do not want it. The Sony stand alone analog-DV converters started out w/o the Microvision, but was later added on.
Regards,
Rich
Rich Koziol
Wed, 7 Jan 2004 01:39:36 -0500
I really appreciated your article and understand the usefulness of this model for preserving older tapes into digital computer formats. Question: What camera would you recommend for shooting new videos straight to digital computer-ready format? There are so many choices out there, it gets a little confusing. Also, what hardware/software do you use to process these video files on your computer?
Thx,
Q
Quentin Steele
Fri Jan 9 09:22:37 PST 2004
Rich,
You can consider the Digital8 or MiniDV format to be more in-efficient because each tape can only store 60 minute of video. The reason is because the DV format that is actually stored on the tape is higher resolution and contains more data than the analog video of the past. Therefore, on the same surface area of the tape medium, the digital (DV) format will take more space to store more information.
Quentin,
Today, as a consumer, I would suggest a DV format, such as Digital8 or MiniDV. The reason is that the DV format captures much more information (today) than the MPEG-4 formats that are stored on flash disks or even the DVD format on DVD camcorders. Of course, this can all change tomorrow.
But I think your question really asks, if you had to choose between a non-DV format, such as flash disk or direct-DVD, which one should you choose. I think the answer depends on the purpose of your videos. For snap-shots and home use, I think any format will fit your need. For more professional-quality production, I really think you need to stick to the DV format.
Your computer/software question has to be considered the same way. For home use, I feel Microsoft Windows Movie Maker 2 (free) and Windows XP with a decent computer (2 GHz, 512 MB RAM) is fine. For production, you will want to get the best computer you can afford and a more flexible software, such as Adobe Premiere to use on your videos.

Chieh Cheng
Fri Jan 9 16:06:53 PST 2004
> "If I use the pass-through mode for analog-DV conversion, does the DCRTRV350 have the Microvision 1 an 2 protection?"
You got me curious. Just tried recording a segment from a 1995 VHS video that I rented at the video store. It works on Digital8 tape and the analog-USB conversion.

No Body
Sun Jan 18 22:45:16 PST 2004
I have faced a problem. I lost the AC adapter and its connecting cable to electricity outlet. Where can I purchase this from? It has been a total nightmare to find a replacement for this and literally lead to uselessness of my TRv-350 camcorder. Anyone's input is truly appreciated.
Hoss
Sun Feb 1 22:34:34 PST 2004
Go to www.SonyStyle.com, click on "product service & support", then go into the "Sony Electronics Parts Center" for replacement parts or accessories.

Chieh Cheng
Mon Feb 2 01:50:03 PST 2004
Thank you so much for the help. It was quite helpful.
Hoss
Tue Feb 3 21:54:53 PST 2004
The file size info was important to me. Those are huge files. compressing to divx or vcd sounds like a must to me.
David
Mon Mar 15 01:01:49 PST 2004
I have this camera and I have a question for you... I use my camera as a web cam and if I don't press record the camera automatically shuts off after about 5 minutes... Is their a way I can prevent this.. I want to leave the camera on the camera position, plugged in, and running info through firewire continuosly... thanks, jordon
Jordon
Thu Apr 22 20:41:39 PDT 2004
the tape is jammed in my trv350 any idea on how to get it to eject???
tony t
Sat Apr 24 09:44:03 PDT 2004
I was also wondering about the power issue stated above(Jordan Ringel). How do you turn off the "auto-shutdown"? This would help me out too.
Richard Conner
Wed Apr 28 21:20:10 PDT 2004
Have you guys tried the "Memory" mode, instead of the "Camera" mode? Does it still automatically shut-off in the "Memory" mode?
In the past week, I have forgotten to turn the camcorder off and left it in the Memory mode. When I came back, the battery of the camcorder is depleted. I suspect that the camcorder did not turn itself off. Otherwise, there would still be some energy left in the battery.
Would you guys confirm whether the camcorder shuts off in Memory mode?

Chieh Cheng
Thu May 13 09:36:14 PDT 2004
I have confirmed that the DCR-TRV350 does not automatically turn off when it is in "Memory" mode. This morning, I left the camcorder in "Memory" standby mode. Went to do a few things. 15 to 30 minutes later, I came back and the camcorder is still on.
Chieh Cheng
Sat May 15 20:54:51 PDT 2004
By the way, I had a Digital8 tape in the Sony DCR-TRV350 camcorder, this mornign, when I performed the "Memory" standby mode experiment.
I have read elsewhere that, in some Sony camcorders, by leaving the tape out, the camcorder will not shut itself down. Here is one such discussion: VAIO Village: Camcorders / Digital Cameras: Auto off
Chieh Cheng
Sat May 15 21:05:49 PDT 2004
Can you connect the DCR-TRV350 between the TV and the computer and stream a movie straight to the computer via some video editing program or to a internal or external DVD writer? otherwise how would you record a regular 2 hour program on TV to convert it? or just use a memory stick and editing software? How would Chieh Cheng capture a 2 hr tv movie with the DCR-TRV350?
steve
Sat Jul 3 21:42:50 PDT 2004
Yes, you can, Steve. The functionality is called "Pass-Through Signal Convert". You can connect a VCR to the camcorder, camcorder to the computer, and record the video and audio signal from the VCR directly on the computer. See the article for a description of this feature.

Chieh Cheng
Mon Jul 5 14:14:50 PDT 2004
Hello, I'm using my DCR-TRV351 as a webcam connecting it through the usb port, but after a while (I have not check the time) the video transfer stops. The camera does not turns off but I need to turn off and on and start the webcam manager again to continue transmitting video. Does anybody knows how to prevent to lost the comunication?
JARO
Sun Sep 19 19:38:58 PDT 2004
That review was very accurate. I love this camera and everything it does. However, keep the AC power supply in a safe place. I misplaced mine, and was facing a $72 price tag from the Sony store. Thankfully I found one elsewhere at about half that price, but be careful. And if you are to lose it, do not try a generic or universal adapter. I blew $20 on one of these.
David
Tue Oct 5 09:27:22 PDT 2004
I'm having trouble, I can't get the audio on my movies when i transfer them using usb streaming. It says i do not have the driver for it. Can you help me? thanks
anne
Mon Jan 10 00:43:52 PST 2005
I have this camera and have no problem with using Pixela to edit video. The only thing is I am not happy with the resolution of the final product.
I think it's the fault of the camera as 640 x 480 equals 307200 pixels.
I think you need 786k to get TV quality. I probably need to get a better camera and better editing software to create pro-video.

Jef
Tue Feb 15 15:54:13 PST 2005
Jef, Are you using the USB connection or the Firewire connection? The USB connection gives you a 320x200 resolution video, while the Firewire allows you to transfer video at 720x480.
Chieh Cheng
Tue Feb 15 16:06:33 PST 2005
Chieh, thanks for a good, thorough review.
I've had a DCR-TRV350 for over a year now; I bought it after Consumer Reports rated it a Best Buy in 11/03. By and large, I agree with their assessment and love the camera and its many features (doing time-lapse stuff with its built-in intervalometer is one of my favorite uses).
However, it seems to lack one capability that I think is common in many Mini-DV models in its price range; there's no audio jack to monitor sound levels through headphones (and no way to adjust these levels). I bought an external shotgun mike to help isolate my subject from the ambient noise, but I'm "flying blind" (or rather, deaf) when using it.
Do you know of a capability I'm not finding? Perhaps I need an external box that would both let me adjust audio gain and plug in headphones to hear the results.
Ken
Ken Henningsen
Wed Mar 9 07:52:12 PST 2005
Great Review,
In reponse to Kens question about monitoring audio on similar Mini-DV models; although the camera may not have a dedicated headphone port, you may be able to plug some headphones into the audio/video port to monitor sound. If a sound is not heard because the signal is not getting through correctly you can buy an adaptor which allows you to connect your headphones to the A/V port, I am not sure you will be able to adjust the audio gain. I currently own a sony DCR_PC350 camcorder, it has an A/V port put no dedicated headphone port.
Also, the lANC port described in the article is used to connect a wired remote control, for example, sony's RM_VD1 Romote Commander. This is especially usefull in conjunction with frame recording because it prevents very slight camera movement caused by pushing the record button. I will try to attach an image of the LANC device.
Joe
Attached Image: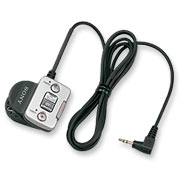 RMVD1.jpg
Joe Banks
Sat, 13 Aug 2005 14:01:14 -0700
I got this camera to use for my middle school drama classes. There is only one design flaw that makes me nuts - and apparently it really doesn't matter to anyone else - only in my situation. To change tapes, you have to completely remove the camera from the tripod. (I guess most folks don't use a tripod, but for recording a 1 1/2 hour show - well, we need it) Because of that - I lose a good portion of the show. Is there a camera comparable that you know of that has the tape inserting on the side rather than the bottom? My (way) old Sony did - but the kids managed to knock the eye piece off..
middle school teacher
Sun, 29 Jan 2006 09:47:31 -0800
I too have a question about monitoring audio on my TRV 350. You say that I might be able to plug some headphones into the audio/video port to monitor sound if I buy an adaptor which allows me to connect my headphones to the A/V port. Do you have the name for the adaptor or know where I can buy it?
Thanks for any help you can give me.
Ray
Ray
Thu, 12 Oct 2006 00:38:56 -0700
Minimizing tape change time, response to middle school teacher who wrote:
" I got this camera to use for my middle school drama classes. There is only one design flaw that makes me nuts - and apparently it really doesn't matter to anyone else - only in my situation. To change tapes, you have to completely remove the camera from the tripod. (I guess most folks don't use a tripod, but for recording a 1 1/2 hour show - well, we need it) Because of that - I lose a good portion of the show."
Besides using two cameras with staggered start times, to catch the entire performance with some scenes overlapping, you could connect the av cable for audio and S-video to a VCR and remove the tape from the camera altogether. With the tape out the camera won't turn itself off after five minutes, instead it might turn on demo mode for an overlay of Display-floor attractive and simulated scan of features. Menu, Setup Menu(Tool Box), Demo Mode, Off will prevent 30 minute auto demo as well as simply inserting a memory stick. Or use Digital Video, since no overlay display is sent out on DV from this camera.
Disney Wizard
Tue, 24 Apr 2007 19:52:49 -0700
Wow, I lucked out. I love this camera so much I bought seven of them.
In 2005 I saw this camera on E-bay and did some research on-line before purchasing it.
This was the article that influenced me to choose the DCR TRV-350 NTSC by Sony.
I was intrigued most by Gibbie the hamster for low light recording and also by time-lapse interval recording.
I got a bargain on 100 tapes online. They are Maxell P6-60HMbq Hi8mm 60 minute professional tapes. With the menu/tape-set to record mode LP, a 1 hour tape lasts 48 minutes. I have one of the cameras pointed out of my back window at the sky at all times.
It is set for interval recording for .5 seconds in 30 second intervals with color slow shutter engaged. That works out to one minute of tape for every real-time hour. Every two days I change the tape, 48 minutes of tape=48 hours of time-lapse.
Color slow shutter is engaged constantly, during the day it has little effect, and at night nearby aircraft become stuttering streaks of light. I am ecstatic with the resulting images, the clouds light up with amazing detail. I used double speed playback on the remote when I transfered them to DVD, this blanked the sound and compressed the time lapse to five sunsets an hour - Amazing footage. Once I turned the camera around the other way and switched on super night vision in time-lapse hoping to catch my wife twisting up all of the covers. Instead I found it was me that was doing so. She never saw that tape and I stopped complaining.
Super Night Shot also produced some fascinating detail in Disneyland's Pirates of the Caribbean. Just before the first drop Disney floods that area with infrared for their own cameras, to make sure no-one is standing. There are some barrels and stacks of stuff, decoration one would never otherwise see. I was in the front row and could see down the falls all the way to the bottom. When we were in the Haunted Mansion however, the cast members kept telling us to turn off the light, not realizing that we were no disturbing anyone, the lamp was off. The two infrared LED emitters under the camera's microphone were likely blazingly bright to their cameras.
Another shot that I was surprised at was also at Disneyland. I had placed the camera on the piano to film Johnny's face while he played ragtime. His pedal stomping walked that camera right off the plank.
it fell 3 and a half feet to the ground. When I picked it up it had problems, which I expected. At first it wouldn't eject the tape, more about that later. Zoom control was not responding, nor was autofocus. The upper right on the display flashed E:61:10 alongside a green standby. So I switched on manual focus and after many turns of the thumbwheel the camera came into focus (this must be done each time the camera is switched on.) With plenty of tape left in the camera I was able to salvage the remaining footage. I turned the camera to the audience waiting for the fireworks and engaged Color Slow Shutter, pressed record and let it run. I would have never thought to take that shot, to squeeze out every last function of that camera, if it hadn't dropped and broken. The shot was fantastic, watching the oohs and ahs of the gathered crowd adoring the night-time aerial display.
There some switches and menu settings that interact for low light imaging.
First is nothing, just point and shoot. Comparatively fair image quality judged among other cameras. Realtime motion is dark.
Second is Color Slow Shutter, located just behind the lens on the keypad on top. This will hold a blur an image until enough light is collected, all the while sending the image to tape. This is fine if the camera is steady like on a tripod or placed on a table. People walking across the frame will be blurred but you can still capture the facial expressions of those who are seated, and even some detail in the shadows. A candle in a box is displayed in the center of the display.
Third is Nightshot. This mechanical switch on the left of the lens slides a filter out of the light path and trips an internal switch that utilizes twice as much green on the CCD imager. Images are green, real time and shifted toward the infrared. This is not thermal imaging. You wont see heat such that a latent image of someone's hand print will show after thy leave, and a blue flame shows up the same. In the camera menu it the N.S.Light option of on and off. This will illuminate the two InfraRed LED emitters under the microphone only when Nightshot is switched on, which are only effective for a few meters. An Eye in a box is displayed in the center of the display.
Fourth is Super Night Shot. Only when Nightshot is switched on, use the Color Slow Shutter button on the top keypad to engage Super Night Shot. You will see finer detail in the shadows. This combination effectively collects enough light before advancing the frame, by holding the virtual "shutter" open. Again moving objects will blur. Blurring is reduced and frames advance more quickly as available light is increased. Displayed is the eye in the box as above with an additional "S" on the screen, to indicate the Super Night Shot function is active. The emitters have no indication on the display but look at the front, they can be visually checked, just barely, for operation,
I used all three, IR emitters on (Menu:Camera:N.S.Light:On) And the combination of Night Shot with Color Slow Shutter to get Super Night Shot on Disneyland's Space Mountain back when this ride was DARK! With the camera in this setting, it clearly taped the track several yards ahead of the rocket and picked up our reactions better than I could have hoped for. It's one of my wife's favorite tapes.
Below: Another shot of the tripod adapter.
Disney Wizard
Sat, 08 Dec 2007 01:03:17 +0000
Dealing with "Tape won't eject" and "Camera turns itself off" for the
Sony DCR-TRV350 Digital8 Handycam or
"Using Percussive Maintenance to Overcome Buzz Kill."
All of the TRV350 units I have share the same flaw, Brownout. The screen goes black and horizontal white lines flicker, all control switches cease functionality. The camera may or may not be powered on and stuck in the previous, offending mode. I call this Buzz Kill, because of the image and sound recorded when it happens.
First make sure that you didn't just leave the camera on for five minutes in standby mode. This is not Buzz Kill. The camera is programmed to shut down, to keep the tape from melting from the friction of the spinning video head drum against the stationary tape and thereby clogging the heads. This is normal and desired. To fix this just turn the thumb switch off and on, as explained in the manual. If you are using the camera as an external source for another device, like webcam streaming on USB, as a Video or S-Video source for a VCR, or Firewire to a DVD Burner or computer, then you will want to disable this feature. Remove the tape, if you are using the more versatile Camera Mode. Or turn the power switch up all the way and use Memory Mode. If using the VCR mode to play back a tape, get the tape moving before it times out.
If the problem is more serious than that, then percussive maintenance may be in order. This is NOT in the manual. Turn off the thumb switch, remove the battery, then carefully assemble each component. Cover the lens, seal any loose port covers, secure the LCD viewing screen and make sure the neck strap is neatly folded into the secured hand strap so it won't catch on anything or just wear the neck strap. Then lift the camera firmly with the the hand strap well fitted to your hand, up to eye level. Pull downward at 10 feet per second at impact, nearly freefall, and with the opposing hand rising, and with a formed cupped hand, strike the microphone area on the thumb switch to microphone line on a vertical axis. On stage I generally start with this gentle clap, but would rather find time to permit a proper restart.
It important to note that this is not the last resort, but should be treated as such. Shocking the camera under any circumstance is always a bad, bad thing. First try resetting the camera power.
Turn the camera off - rotate the thumb switch down from Memory, Camera or up from VCR to Off(charge). Use a charged battery that is known to be good. Restarting then consists of removing and replacing the battery, until the indicators light and drive motors whir. Remove the battery. If your battery has charge level test LED indicators on it's back, cycle the battery tester switch. This loads the battery into discharge and helps prepare it for the coming load. Double check the thumb switch remained Off(charge), and THROW IT AT THE WALL is what I want to do. No, don't do that.
"Batt info" is the button second from left in the silver keypad on top. Place the battery into it's compartment without engaging it, Cycle the battery test switch on the battery back. Power Up! Depress the camera's battery info key, as you engage the still glowing battery. The viewfinder should come alive with the testing pause progress screen. Give the camera a half minute to respond. If a memory stick is inserted that red lamp will briefly illuminate. The battery power lamp briefly illuminates. Now listen and feel for the tape drive reset.
You are likely on your way to full recovery at this point. Minimum power draw is the key here. Again remove and replace the battery. But this time, before replacing the battery, unlatch the view screen slightly (so that it won't switch on) and squeeze your little finger in to press the outermost center control button labeled "menu", it has two bumps on it. Flip the thumb switch all the way up to the memory stick. With the camera on in memory stick mode, and your finger poised at menu, re-engage the battery. Use the viewfinder to visit the menu in all three modes to trim the power. Shut off power to lamps, LCD auxiliary screen, ports and options. Night shot may also help reduce power, but make sure the Infrared Emitters are off in Menu:CameraSet:N.S.Light:off. VCR is the next thirsty mode to disable power hungry options in, rotate the thumb switch down to the bottom. You may have to remove and replace the battery again. The tape reset should be smartly cycling with each battery reconnect now. If you have the ability to, connect the AC port under the battery to the mains adapter. Slowly engage power options. Test fast forward and rewind, before play and record. I have had these things apart and noticed a peril sensitivity switch engaged to an anxiety sensor in parallel, between the volume up and reset buttons. In other words, when you are most stressed and you need the camera in urgency, the camera become a cowardly chicken shot and hides. Only after ALL of these steps complete satisfactorily, do I attempt to eject the tape, by first fast forwarding and rewinding completely, before EVER opening the compartment door to trigger the eject sequence! This helps ensure that the tape is not wound around the capstan or idle wheel, which would prevent a clean eject.
1. DONT'S: . Don't open the tape eject compartment door just a bit and then let it slip closed.
This still triggers the eject. It's the most effective and #1 camera failure point, the best way to jam the camera. OPEN IMMEDIATELY!-before the carriage jams into the closed door. Failing that, Quickly remove the power sources before the tape compartment starts to move out into the closed door. That tape eject has a mighty little motor. It can jam every thing up just by sucking down all the current. Remove and replace power until the tape is seated properly, so the door can swing freely open.
2. . DON'T SUCK.
I mean don't suck the current down so fast. Engage only the options currently needed. Use the lamp in Auto only when needed. Engage the lamp in On sparingly. That sort of thing. The camera seems to fail in buzz kill most often when motors are running, but not always.
3. . DON'T REMOVE THE TAPE WITH A SCREWDRIVER.
Even though it LOOKs like you could just remove two small screws and pull the tape out, you can't. There are tape winders up in the reels, the tape remains fully engaged wrapped tightly around the spinning video-head drum and the idle wheel holds the tape tightly pinched to the capstan and a hook needs to be released that holds the carriage down in precise alignment. Just like at an amusement park, if a ride breaks down, it is usually best to disembark guests at the station. Get it running again and wait for the safety bar to rise. More than one person has destroyed their camera made the mistake of forcing the tape out, ending up with just a webcam or selling it for (damaged) parts.
Sometimes the door is open and the tape compartment carriage is up in the ejected position but the tape cassette still won't lift out. The plastic shutter on the cassette didn't close completely and is hanging on the compartment frame. This could also be caused by some tape dangling out of the shutter. Don't pinch the carriage closed, just seat the tape in the compartment and jiggle it, or poke in something soft, long and slender, like a straw, to help close the shutter, until it comes free. If the tape is dangling it could catch on the works. If it does, release tape tension by inserting and depressing the ratchet release in the square hole at the back bottom (in the center) of the cassette as you pull the cassette free, spooling out the stuck tape. Then carefully clear the remaining tape from obstacles and manually wind it back into the cassette.
Finally there is the tiny recessed key labeled reset just below the Volume+ key. This is a software reset and will change all of your options back to the default, factory settings. It won't solve the power problem and it does little good if the camera is not getting power properly.
I don't know why whacking the front bottom of the camera works to restore power, but it's like magnetism, we know how to use it, but we don't know why it works.
Disney Wizard
Sat, 08 Dec 2007 19:20:20 +0000
I want to transfer video from my SOny DCR-TRV350 to my computer (Windows Vista) via the i.Link (Firewire, IEEE1394, DV) port. Can someone provide instructions?
Thanks in advance.
Bob
Fri, 14 Nov 2008 17:05:08 +0000
Yah, you just had to search this site. Here are a list of articles that would help you out: Camera Hacker: Tips: Digital Video.
Chieh Cheng
Fri, 14 Nov 2008 17:49:53 +0000
Anyone have any comments or concerns recording to memory stick pro larger than 1Gig? The Sony site states that is is tested for functionality up to 1 gig. Thanks.
PaulG78
Wed, 10 Dec 2008 05:36:55 +0000
Wow, the percussive maintenance actually worked! In my case I had already forced the door open past the just-slightly-extended carriage, but it worked in any case.
Dale Wyttenbach
Sun, 14 Dec 2008 15:06:21 +0000
Long ago I stored my old Sony CCD-V8 Handycam Pro with a tape left in and a couple of years later found it wouldn't eject. That tape has been stuck for years. Thanks to the first para of your article, "Some thoughts ...", where you suggest non-use of your CCD-V9 hardened the grease causing malfunction, I decided to use a hair-dryer to soften any lubricant. After much patience and gentle prodding, the tape finally fully ejected. It's just amazing. Thank you so much. Now we have all our Video8 tapes which we plan on transferring to digital.
Carol Bailey
Thu, 15 Jan 2009 22:56:05 +0000
Thank you...and Carol Bailey (perhaps even more). I too stored my Handycam (CDD-V9) with a tape left in it only to discover it would not come out. It had been this way for months and I was close to trying a complete disassembly; something which would no doubt leave the unit unusable. When I read Carol's Jan 15, 2009 post about hardened grease and hair dryer, I thought that is much more likely to leave the unit able to operate. It worked for getting tape out. Would love to know what I need to do so that I do not need to use the hairdryer again next time. Maybe I'll find that with more searching. I'd also like to know how to fix the alignment - if that's the problem - since it now plays with hash at the top of the screen or rapidly scrolling white lines across the screen.
Mike
Sat, 09 Apr 2011 01:24:43 +0000
I started a website for this camera DCR-TRV350 at http://trv350.angelfire.com/
It contains much of what I spoke of above, such as percussive maintenance, as well as:
MemoryMix images you can download and use in your camera http://trv350.angelfire.com/trv351.html with extra mattes, watermarks and background images and how to make them, and format them as 640x480 to load and use in your camera.
I now have eleven of this model and burned out three of them over a year of timelapse taping of the Los Angeles sky in 2009. www.youtube.com/results?search_query=time+lapse%2C+western+sky
I've done a lot of stereo 3D work with pairs of them, synchronized with the InfraRed remote, both with video (unpublished for the most part) and still (photo key on the remote) like the crowd favorited Giant Cat;
3D, I is cheezeburger and pickle in side, Mickey Mouse, Minnie Mouse and Wizard Flee the Giant Cat, Aghh, Running, California, Anaheim, Disneyland®, Main Street, dsc00020, 2008.11.14 13:21
http://www.flickr.com/photos/disneywizard/3033111843/
[Important Lesson: Don't hang between mice, when the giant cat shakes it's tail.]
Just about everything in my photo stream is TRV350 captured (except the early stuff) and all of the latest images are 3D pairs (or half a 3D, published).
Sure, I've had plenty of problems with the tape transport. One camera I bought at auction had the guide pins fall out when I opened the tape door. It now burns eight continuous hours of 16:9 DVD at a time using the iLink DV firewire port.
Half of them have the 1/4" 20 tripod mount ripped out from rough handling while mounted to a variety of home brew mounts, because they tipped over then suddenly stopped. But like any aging Hollywood starlet, they can get cantankerous when manhandled yet still perform superbly when treated with gently respect.
Disney Wizard
Wed, 30 Nov 2011 08:34:31 +0000
Add Comment |
Related Links |
TrackBack

Related Content
Did your message disappear? Read the Forums FAQ.
TrackBack only accepted from WebSite-X Suite web sites. Do not submit TrackBacks from other sites.
Send Ping | TrackBack URL | Spam Control
Title: Sony Digital8 that would play back Video8 and Hi8
Weblog: Camera Hacker
Excerpt: The LAST call, the tech stated that the ONLY DIGITAL8 Handycams that would play back both Hi8 and Video8 [standard 8] tapes that I have around the house are TRV-350 and TRV-480. Is that true? I need to just get the images off of my old standard and Hi8 tapes that are lying around.... and get them bu . . .
Tracked: Wed, 29 Aug 2007 23:27:37 +0000
Title: Quick Tape Changing Adapter
Weblog: Camera Hacker
Excerpt: Quick change: I built this custom adapter seen below to change tapes while maintaining tripod mount. It lifts the camera 7/8 of an inch above the tripod mount face. The camera looses some stability when using this adapter. The camera tends to want to unscrew and pan left, especially when cables a . . .
Tracked: Fri, 07 Dec 2007 23:48:09 +0000
Spam Control | * indicates required field
Messages, files, and images copyright by respective owners.