Add Comment |

Related Links |

TrackBack


Related Content
AIS to standard stero input
hi,
is there an adaptor like thing that converts the Active interface Shoe to the standart?
Thank you.
ioan kile
Tue, 26 Sep 2006 07:24:35 -0700
There isn't one, but you can easily make one . Sony Part #183064611 is a hotshoe plug with wire leads. It sells for about $65. It's a nicer alternative to hacking a Sony HST1 mic, because, well, it just looks neater. Once you receive it from Sony Parts you'll need to solder an 1/8" stereo jack to the wire leads and that's it. You're done.
Check out the circled part in the pic.
Attached File: HVR-A1U.bmp (63 KB)
Adam
Wed, 13 Dec 2006 08:51:42 -0800
I ordered and received the part mentioned above (called an "encapsulated cable"). It's an AIS hotshoe plug with 7 wires coming out of it. Does anyone know which of these wires would connect to a microphone jack?
Pink and purple are twisted together, as are the black and white wires. The remaining three are grey, yellow, and blue.
Bob
Thu, 21 Dec 2006 13:12:21 -0800
Bob,
Have you tried posting on DVinfo.net? There's an entire section dedicated to the Sony A1U, perhaps someone with a service manual could look that info up for you and save you the $$ for a new manual. Another option would be to call a Sony service center, I don't know if they'll be able to give that info over the phone, but it might be worth it.
Sony Business Solutions & Systems - Service Centers
Adam
Thu, 21 Dec 2006 22:46:48 -0800
Thanks Adam! I'll check that out. Haven't you made one of these?
Thanks again,
Bob
Bob
Fri, 22 Dec 2006 04:50:07 -0800
Anyone have schematic or pinout information on Sony 183064611 and/or Active Interface Shoe?
Dick
Tue, 26 Dec 2006 09:16:52 -0800
Adam,
No luck at DVinfo.net, unless I was looking in the wrong area. Do you know what service manual would have that info on which wires are which? I'd be happy to spend the money if it's going to help me move forward.
Thanks,
Bob
Bob
Sat, 30 Dec 2006 11:17:07 -0800
Will this work?
Jon
Sun, 07 Jan 2007 23:44:06 -0800
Bob,
I have recently picked up a service manual for a DCR-PC1000 which I presume has the same pin out as all Sony's with an AIS. Pic is attached at bellow.
Another thing that might help you is this website: HC3 Microphone Modification..
Finally, if you still want to get a service manual for your camera you can order one directly from Sony: Sony Parts for Professional Products I'd use the "Description or Model Pre-fix" search bars.
Good luck and sorry I can't be of anymore help.

Adam
Fri, 12 Jan 2007 13:54:07 -0800
Thank you for this image!
I traced the Sony ECM-HST1:
http://img245.imageshack.us/img245/278/aistohst1fj7.png
The green labeling shows the cables of the HST1 (The black one is 1 = GND).
I traced the board and found out, that 2 (Lanc), 6 (Rear Mic Left) and 7 (Rear Mic Right) isnt used.
Here is the board:
http://laundrie.org/mic/large/PB180013.jpg
http://laundrie.org/mic/large/PB190001.jpg

Phex
Wed, 07 Feb 2007 21:28:59 -0800
Oh, i should use HTML, here is my post again:
Thank you for this image!
I traced the Sony ECM-HST1:

The green labeling shows the cables of the HST1 (The black one is 1 = GND).
I traced the board and found out, that 2 (Lanc), 6 (Rear Mic Left) and 7 (Rear Mic Right) isnt used.
Phex
Wed, 07 Feb 2007 21:30:43 -0800
Here one image for all:
The purple path marks the Mic_GND. I think you can use wire 10, 9 and 8 simple to connect the jack.
Phex
Wed, 07 Feb 2007 22:41:09 -0800
Hi
did anyone get the Sony Part #183064611 cable working with external mic in the end
& does anyone know if it is the same shoe as the HC3
thanks
Andy
Andy
Thu, 08 Feb 2007 17:43:32 -0800
Hi,
From this and other pages on similar subject, I managed to get to this: an HGZ1 with two 3.5mm jack sockets wired as Left/mono and Right. Wired like this I have 3 options:
1. Mono external source plus HGZ1 (split L and R)
2. Mono external source into both L and R
3. Stereo external source into L and R
The only thing I need to tweak is the angle of the jack sockets. The slope of the mic body makes it difficult (if not impossible) to get anything other than right-angle jack plugs in. I might have been better off using 2.5mm plugs I guess. I didn't have to tap in to the circuit board at all though - I just rejigged the wires.
The mic base is currently held together with tape until I have finally sorted all the ergonomics out. As you can imagine getting the 2 jack sockets in there was a little bit (!) of a squeeze. I am going to glue it once I have completely finished and it will look as good as new.
If anyone is interested in a schema and more photos of the transformation, let me know and I'll post them.
Regards,
- Paul
Paul
Fri, 09 Feb 2007 07:14:40 -0800
Would be fine if you could post. Escpecially interested in option 2 and 3.
thanks,
Vidar
Vidar
Tue, 13 Feb 2007 00:57:46 -0800
Hi Vidar,
Here's the schematic and a shot of how I tapped into the wires going between the 2 mini-connectors. Adding the capacitors and resistors (above) would be a belt-and-braces approach to ensuring the protection of the inputs, but I haven't bothered.
Shout if there's anything else you need to know.
- Paul
Attached Image: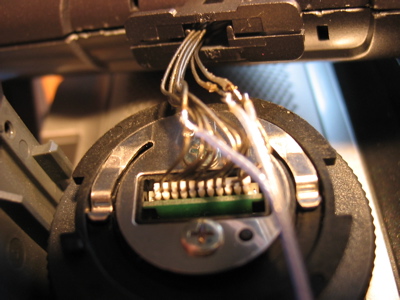 Wiring.JPG
Paul
Thu, 15 Feb 2007 07:59:07 -0800
And the schema... I don't think it will any awards for tidiness, but hopefully it's clear enough
Attached Image: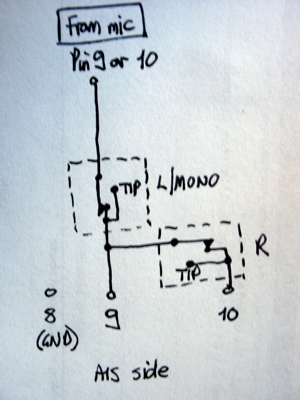 Schema.JPG
Paul
Thu, 15 Feb 2007 08:00:00 -0800
check this:
http://tinyurl.com/25j3oj

peter
Sun, 04 Mar 2007 18:06:26 -0800
peter
Sun, 04 Mar 2007 18:07:17 -0800
I found this topic because I was in need of an adapter myself. I purchased the part suggested by ioan kile above (Sony Part #183064611)and used a multimeter to find which of the wires carry audio and audio ground. I soldered these to a mic jack and hooked up a mic. It didn't work.
I am posting this to prevent someone else from trying the same and wasting $65.
It seems to me that the other wires on this part that carry the hotshoe id and hotshoe ground must be connected to something in order for the camera to recognize that an accessory is attached.
After researching and trying to figure out another solution I came across this.
It is $20 and is exactly what I was looking for. It is also what the person who started this topic was looking for.
I only wish I had found it sooner.
Mike
Thu, 05 Apr 2007 10:09:19 -0700
Hi. I went through this discussion, and I think the 65 USD encapsulated cable is pretty expensive. But I found a page in my manual, which shows the different connections tot the camera. I already recorded stuff from a VHR. As you can see cable #1 has a white/red audio in. How about to connect the microphone to these? Any suggestions?
Thanks
A.
dibloff
Tue, 07 Aug 2007 20:17:55 +0000
dibloff, if you use that cable, the camcorder will expect the video signal from the yellow plug, which you will not have connected. I believe the camcorder will only record from the cable in VCR mode. I could be wrong. Try it and let us know.
Chieh Cheng
Tue, 07 Aug 2007 20:37:53 +0000
There's an easier/cheaper way to connect external microphones. Look for Sony VMCK100, it's about $20.
Dick
Mon, 03 Dec 2007 18:10:29 +0000
i found this might buy it Sony VMC-K100 Microphone Adapter for Camcorder Hot Shoes
travis
Sat, 15 Dec 2007 03:27:17 +0000
Okay so this VMC-K100 is now officially discontinued. RIDICULOUS!!!! Anyone have any good tips on where to pick one up nowadays?
Nick Marino
Wed, 26 Nov 2008 19:27:20 +0000
Just to let anyone like me who found this forum from Googling about various things. B&H now sells a replacement for the Sony VMC-K100:
http://www.bhphotovideo.com/c/product/564249-REG/Pearstone_9 . . .
Hope this helps someone as this thread has helped me several times.
-Matthew
Matthew H
Sat, 21 Nov 2009 04:34:39 +0000
I use the Sony VCM-K100 adapter, which plugs into the AIS shoe, and provides a 1/8" stereo (TRS) input jack. To interface a microphone or a mixer, I use the XLR-BP Professional 2 input XLR adapter from Studio1 Productions. Studio1 also has several other adapters, including a simple XLR to 1/8" stereo adapter for around $30.
It appears that the VCM-K100 adapter is discontinued. B&H lists the Pearstone Microphone Adapter for Sony Camcorder Hot Shoe, part number PEMICINS as a replacement.
Jonathan
Thu, 09 Sep 2010 02:48:56 +0000
If You wonna use flex cable "Sony Part #183064611", you need connect two resistor "SHOE ID1 and ID2" to GND (22kohm from ID2 and 0kohm from ID1). Then camcorder recognize audio accessory, and activate AIS audio input.
Look at part of attached schematic from service manual of SONY HVR-A1.
If You have this cable, tray it to use with accessory shoe in other camcorder then HVR-A1. I'm curious about this experiment.
Monter
Fri, 05 Nov 2010 10:37:50 +0000
Hi- I just found this thread and was wondering if anyone has tried this hack in reverse. IE, use the xlr block from a busted hvr-a1 and wire it up to some voltage and mini plug to use as a beachteck type of device.
I ask because I am attempting to do such a thing.
Taking a volt meter to the ais port on the camera, it looks like the unregulated hotshot voltage reads ~2.7v on both middle pins of the AIS port.
From reading the block diagrams it looks like the xlr adapter takes in unregulated voltage and spits out 4.6- but is the voltage 2.7 or 5.4 (both pons combined)?
Kevin
Mon, 29 Nov 2010 20:55:27 +0000
A part of this issue has been solved!
I used XLR block of HXR-NX70 and modified it for HDR-HC1.
This XLR block could work in HC1 and EOS DLSRs!
Make SONY HVR-A1 from HDR-HC1 ::: PART 1
http://hdv-blog.blogspot.jp/2013/04/make-sony-hvr-a1-from-hd . . .
Make SONY HVR-A1 from HDR-HC1 ::: PART 2
http://hdv-blog.blogspot.jp/2013/04/make-sony-hvr-a1-from-hd . . .
Make SONY HVR-A1 from HDR-HC1 ::: PART 3
http://hdv-blog.blogspot.jp/2013/04/make-sony-hvr-a1-from-hd . . .
RYO
Sat, 20 Apr 2013 19:44:03 +0400
This is my end result on my experiment using the info from above. EASY TO DO!!!! Using a HVR A1U XLR block...and a different power supply 6V seems to work well!!!
will do again with a detailed video!!!
sound is pretty decent a little deep but so far works well!!!
Roger
Sun, 07 Feb 2016 00:04:06 +0300

Add Comment |

Related Links |

TrackBack


Related Content
Did your message disappear? Read the Forums FAQ.
TrackBack only accepted from WebSite-X Suite web sites. Do not submit TrackBacks from other sites.
Send Ping | TrackBack URL | Spam Control
Title: AIS-to-IAS Adapter
Weblog: Camera Hacker
Excerpt: I recently upgraded my Sony DV Handicam (DCR-PC110) to the new high definition model HDR-HC3 but find that my previous Sony Electret Condenser microphone (ECM-HS1) having an Intelligent Accesory Shoe (IAS) won't fit on the new Active Interface Shoe. I am searching for a AIS-to-IAS adapter. Is there . . .
Tracked: Wed, 13 Dec 2006 10:09:29 -0800
Title: converting AIS to mic audio jack
Weblog: Camera Hacker
Excerpt: Shawn is correct in that a dual op-amp is used on the small circuit board inside the HST1 to decode the left and right channels. Left is passed through, and right is created by subtracting the left signal from the combined signal of the center mic. I traced through the board layout and found a great . . .
Tracked: Wed, 13 Dec 2006 10:10:09 -0800
Spam Control | * indicates required field
Messages, files, and images copyright by respective owners.