Add Comment |
Related Links |
TrackBack

Related Content
Minolta CompactFlash Adapter for SD Memory Cards SD-CF1
I have looked all over for this product and can;t find it. By any chance, do you know who has them in stock?
eric vogel
Tue, 20 Sep 2005 12:19:09 -0700
You can get it from Amazon:
Minolta SD-CF1 Compactflash Adapter for the Maxxum 7D, A200, A1 & A2 Digital Cameras
Chieh Cheng
Tue, 20 Sep 2005 15:34:59 -0700
No longer available.
I bought a Mittoni SD-CF adapter that looks identical to this one from Australia. I use it in my Nikon 8700, and it works great with one caveat: It's power hungry, so when your batteries get low, you'll lose the ability to write to your SD card before the camera runs out of power for taking pictures. My best guess is that it stops working with about 1/4 of the battery life remaining.
Rob
Wed, 8 Feb 2006 09:03:55 -0800
I've look all over the web for a SD-CF1 adapter and I can't find one or anything comparable. Everyone is saying they're out of stock or out of production. Any of you know where I can get one or have an extra one you'd like to sell me?
Thanks,
Mark
Mark
Tue, 23 May 2006 14:20:46 -0700
You can try the Secure Digital SD to CF CompactFlash Card Adapter Type II from Mittoni.
Chieh Cheng
Tue, 23 May 2006 15:44:40 -0700
Hello, :D
I did buy this adapter SD to CF here :
SD/MMC to CompactFlash Adapter
A bit expensive but iy works very well and i don't need to buy CF anymore
Hope that helps
Mineolut
Attached Image: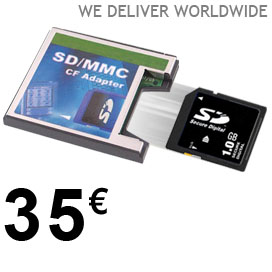 272x272_en_noclick.jpg
Muksu
Wed, 09 Aug 2006 07:06:32 -0700
What is the benefit of using the SD to CF adapter as against just using a CF card? Are they cheaper or faster than CF cards?
I use a Canon 1D Mark ll which has both a SD and a CF slots. Do I need the adapter?
What does the SD card to CFII do as against the CFI?
As you can see I'm new to digital.
Thanks, Howard
howard
Wed, 13 Sep 2006 16:37:40 -0700
You don't need the adapter, howard. It's only useful if you only want to purchase SD Cards. Or if you have a secondary camera that only read/write SD Cards. Than you can use the same batch of cards with both cameras.
A CFII card will not fit in a CFI slot.
A CFI card will fit in both CFI and CFII slots.
Chieh Cheng
Fri, 15 Sep 2006 10:08:14 -0700
I have one brand new in box 4-1 compactflash adapter mittoni from austrailia still in hermetically sealed plastic
Robert
Tue, 04 Oct 2016 21:28:02 +0400
Add Comment |
Related Links |
TrackBack

Related Content
Did your message disappear? Read the Forums FAQ.
TrackBack only accepted from WebSite-X Suite web sites. Do not submit TrackBacks from other sites.
Send Ping | TrackBack URL | Spam Control
Title: What's inside a SD Card to CF adapter?
Weblog: Camera Hacker
Excerpt: Have you ever wondered what's inside a Secure Digital Card (SD card) to a CompactFlash (CF) adapter? First of all, yes, SD Card to CF adapters does exist. They are very rare and hard to find for purchase. There are two types: 1) SD Card to CF adapter; and 2) SD Card to CF II adapter. The first ty . . .
Tracked: Fri, 2 Sep 2005 18:05:02 -0700
Spam Control | * indicates required field
Messages, files, and images copyright by respective owners.