Add Comment |
Related Links |
TrackBack

Related Content
new body recommendation
Friend:
I have the same [Canon EOS Rebel X] camera and bp-8, Sigma 28-105 ( 2.8 - 4 ), Perfect, Tokina AT-X 400mm, Good, Vivitar 19-35 ( 3.5 - 4.5 ), no so good. For 10 years itīs my bebe, and now I have to change beacouse the body, (rebel x-s), itīs to old and used. The problem is was so leal and styl worked, I donīt know, i not a professional, but i like made good photograps. You know, I donīt need to change the lens, only the body. Help.
Sorry, my ingles Itīs no good. I from Chile. Thanks.
Attached Image: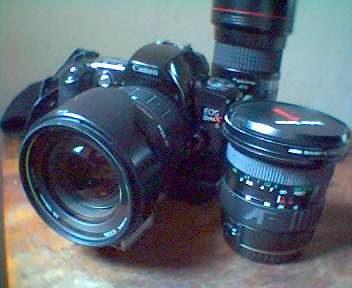 0101_002712.jpg
Claudio
Sat, 24 Sep 2005 11:31:35 -0700
Are you looking for a film body for replacement or a digital body?
Chieh Cheng
Mon, 26 Sep 2005 16:42:39 -0700
Add Comment |
Related Links |
TrackBack

Related Content
Did your message disappear? Read the Forums FAQ.
Spam Control | * indicates required field
TrackBack only accepted from WebSite-X Suite web sites. Do not submit TrackBacks from other sites.
Send Ping | TrackBack URL | Spam Control
No TrackBacks yet. TrackBack can be used to link this thread to your weblog, or link your weblog to this thread. In addition, TrackBack can be used as a form of remote commenting. Rather than posting the comment directly on this thread, you can posts it on your own weblog. Then have your weblog sends a TrackBack ping to the TrackBack URL, so that your post would show up here.
Messages, files, and images copyright by respective owners.