Add Comment |

Related Links |

TrackBack


Related Content
Disabling SteadyShot on Sony Cyber-shot DSC-T30
DSC-T30
After initialisation picture wobbles violently and camera produces a fluttering sound.
This is the steadyshot system out of control. The fluttering is the floating lens making extreme movements.
Error E62:10 is displayed.
To disable Steadyshot system.
Tools:Jewellers screwdriver set. Small bin for fine screws.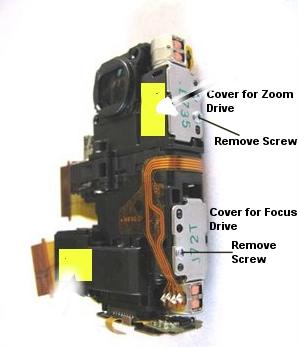 Method:
Remove the camera front. Five screws, you'll need to work out which because I cannot take photos while I am doing this.
Lift out the imaging block (see photo above) and turn to reveal underside.
Remove the flex ribbon that enters the underside connector. Lift the black bar on the connector and gently pull the ribbon out. Leave ribbon free. This diables the steadyshot floating lens and control so the mechanism cannot function or malfunction any more.
Reassemble.
Good news: drain on the battery reduced.
Bad news: E62:10 displayed permanently.
My DSC-T30 is now behaving in all other respects.
Hopes this helps someone..
My next camera will be a Nikon.
Peter Watt
Sun, 11 Dec 2011 21:47:25 +0000
Attached thumbnail for cataloging.
Chieh Cheng
Mon, 12 Dec 2011 09:26:42 +0000

Add Comment |

Related Links |

TrackBack


Related Content
Did your message disappear? Read the Forums FAQ.
Spam Control | * indicates required field
TrackBack only accepted from WebSite-X Suite web sites. Do not submit TrackBacks from other sites.
Send Ping | TrackBack URL | Spam Control
No TrackBacks yet. TrackBack can be used to link this thread to your weblog, or link your weblog to this thread. In addition, TrackBack can be used as a form of remote commenting. Rather than posting the comment directly on this thread, you can posts it on your own weblog. Then have your weblog sends a TrackBack ping to the TrackBack URL, so that your post would show up here.
Messages, files, and images copyright by respective owners.