Dissecting SmartMedia
The 32 MB SmartMedia card that came with my Olympus Camedia C-2500L digital camera died a little while back. I had never thought it would have died suddenly. Even though SmartMedia cards have exposed contact surfaces, I would have thought that the developers engineered it so that it would be robust and reliable. I really have no idea why it would suddenly die. But no matter how many times I cleaned the contact with an erase, how many times I stick it in the camera, or how many times I try to access it in a card reader, it would not come back to life.
I hesitated on throwing it away, yet it sits there on my desk, serving no purpose. Or maybe it could serve one more purpose. I had always wondered how the flash memory chip was contained in the thin black plastic of a SmartMedia card. Was it sandwiched in the black plastic with tiny circuit connection from the exposed contact? Or was the chip glued to the back of the contact plate and the rest of the black plastic is simple a blank holder. I decided this dead SmartMedia card could answer, at least, some of my questions. I started bending the black plastic back from the contact and the following pictures show what I found . . .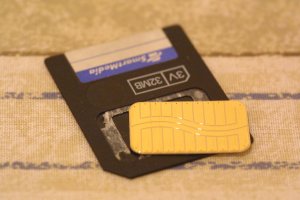 The contact panel peels right out from the black plastic. It is glued in with double-sided tape. The black plastic is simply a container and serves no other purpose.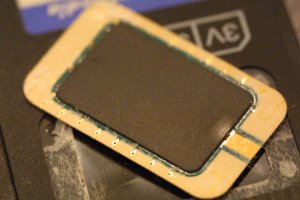 The flash memory chip is glued to the back of the contact panel. It is connected to the front gold plated connectors though circuit traces.
After seeing the composition of a SmartMedia card, the much smaller size of the SD Card or xD-Picture Card is not so astonishing anymore. Flash memory companies could have produced these smaller cards years ago when SmartMedia were first introduced. This lifeless SmartMedia card served its final purpose. But it is still sitting on my desk.
Related Links