Inside the miniSD-to-SD Adapter and the microSD-to-SD Adapter
I think subconsciously I wanted to make a microSD-to-miniSD adapter. I have been looking for such an adapter for a long time, but there are none on the market. So I disassembled the existing adapters to see what's inside.
miniSD Adapter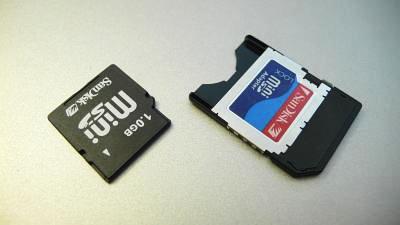 I've loved to take apart my toys as a kid. I still do as a grown up. I've been using a miniSD card in my PDA phone, my digital cameras, and my computers. I keep a miniSD-to-SD adapter handy when I need to insert the miniSD card into a SD device. It's just so tempting to see the metal-plated SanDisk miniSD-to-SD adapter sitting there on my desk. The metal-plate is just asking for it--to be unclipped and peeled back, that is.
So that's exactly what I did. I released the four clips on the right side and the two clips on the left side. Slowly peeling the metal-plating upward, avoiding bending it. After working it loose for a while, the entire top-size, including the plastic mold and the SD contact came off. The result is shown below.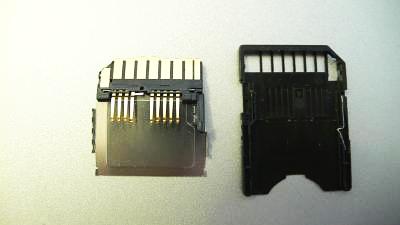 It's obvious the miniSD-to-SD adapter is just a pass-through adapter. But what has made me wonder is that the SD Card has nine interface pins, while the miniSD card has eleven interface pins. How does the miniSD map to the SD Card interface?
To answer that question, I placed the miniSD card under the exposed legs within the adapter (shown in the photo below). It turned out that the two shorter middle pins on the miniSD cards aren't used. Now I wonder what they are for.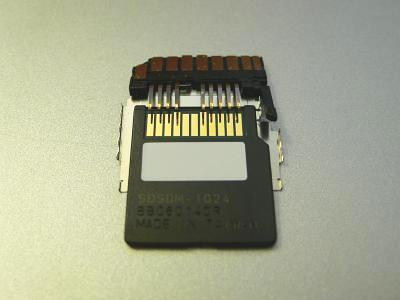 Here is a tip if you are going take your own adapter apart for fun. Watch for the locking switch. I didn't even know there was one on the adapter until I put everything back together and inserted it into my computer; the card became read-only. Now I have a piece of tape over the notch so that it could be written to.
microSD (TransFlash) Adapter
The SanDisk TransFlash Adapter looks like a sealed piece of plastic. But luckily the plastic wield were very strong and I was able to force the top and bottom cover apart with no damage. Below are photos of the inside.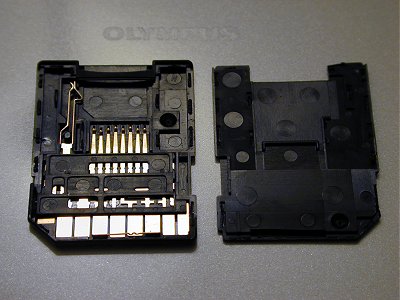 The microSD connector has eight pins, while the SD connector has nine pins. It's not easy to tell the correlation between the two.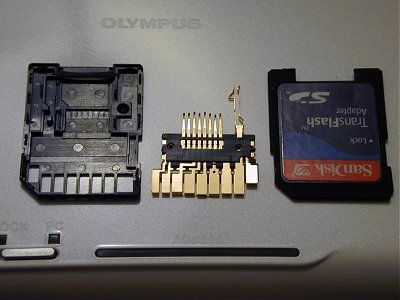 Even flipping over the connection converter inside doesn't help. All of the connector pin-outs are covered in black plastic.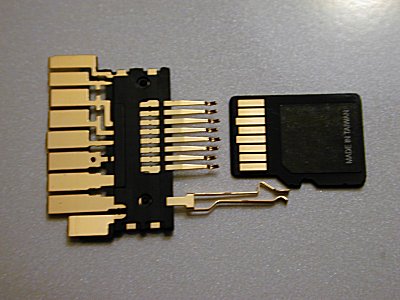 It's interesting to note the pin 3 and pin 6 on the SD connector side are connected. They are both ground. So it's likely that the microSD has only a single ground pin.
Related Links