Canon BP-511 Disassembly
Several years ago, I bought an used Canon BG-E1 vertical battery grip for my Canon EOS Digital Rebel digital SLR camera. When I received the vertical grip in the mail, I found a generic brand BP-511 Battery Pack (see photo below) inside. I was quite thrilled, until I charged it and used it. It last no more than a few minutes. It was no wonder that the vender left the battery in. The vendor was probably looking forward to disposing the battery pack. But being a Camera Hacker, it wasn't a total loss for me. After all, I wouldn't mind taking it apart, see what's inside, and maybe do something with it.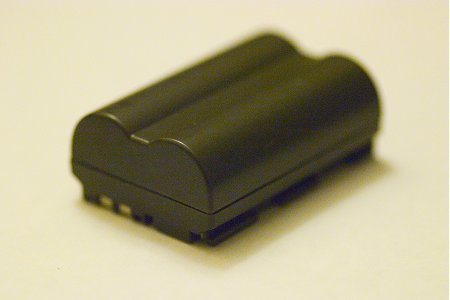 Taking it apart is quite easy. Use a sharp X-acto knife to slice around the seam. The seam is just a really thin piece of plastic. Note that the charging circuit is under the seam toward the electrical contact end. If you want to keep the charging circuit, be careful that you don't cut into the circuit board (see photo below).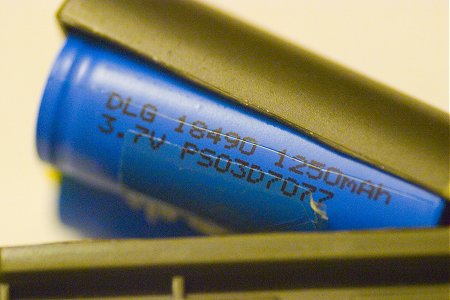 There are two Lithium Ion battery cells inside the BP-511 battery pack. The battery cell is DLG 18490 as shown in the photo below. Each cell is 3.7 volts. Wired in series, the BP-511 battery pack provides 7.4 volts. This generic brand battery pack uses 1250 mAH cells. The Canon brand BP-511 uses 1100 mAH cells.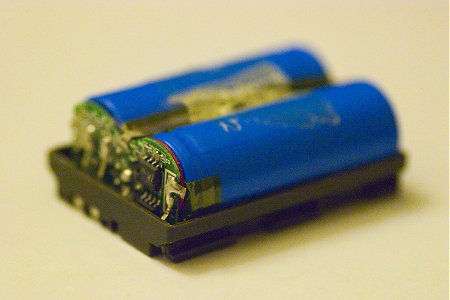 I have a few ideas on what to do with this battery pack. I could 1) rebuild it with new battery cells; or 2) turn it into a dummy battery interface so I can use other 7.4 volt battery packs with my Canon EOS digital cameras. The second idea sounds a little more enticing to me. But at this point, I'm not ready to pick up a soldering iron yet. If you have any ideas for this battery pack, please share your ideas with us.
Related Links