Canon EF-S 18-55mm f/3.5-5.6 Lens
Generally, I don't praise kit lenses. Kit lenses are lenses that came prepackaged with the camera body as part of a camera kit. Kit lenses are generally mediocre at best. They provide average image quality, average zoom range, and average built quality. Their performance is full of compromises. The Canon EF-S 18-55m f/3.5-5.6 lens that came with the Canon EOS kit is not much of an exception, except (grin) in three distinguished areas. Normally, I would have passed on a kit lens by buying the camera body only. However, due to a recent adventure on a new venture, I needed the lens for some experimentation. And, now, having the lens in my possession, I am quite fond of the lens and these three exceptional features.
Note
The Canon EOS kits that include the Canon EF-S 18-55mm f/3.5-5.6 lens includes: Digital Rebel, 300D, Kiss Digital, Digital Rebel XT, 350D, Kiss Digital N, and 20D.
One, the Canon EF-S 18-55mm f/3.5-5.6 lens is an extraordinary macro zoom lens. Canon is silent about this lens's macro capability and the lens body quietly showed its closest focus distance of 0.28m/0.9ft. But for crying out loud, that is the closest focusing distance I have ever seen on a zoom lens! At 55mm, it can magnify the subject to 0.28x normal size. Even the Canon EF 28-135mm f/3.5-5.6 IS USM lens, my best macro zoom lens, can only achieve closest focus distance of 0.5m and magnifies the subject to 0.19x normal size. Of course, this is far from the 1:1 magnification you can get on true macro lenses. But to achieve this kind of close focus distance is an amazing feat on zoom lenses. If you know of a better one, let us know. You might think that I'm just throwing out numbers here, but, truthfully, I discovered its macro capability through the use of the lens in the past few weeks. Could this awesome macro capability be due to the short-back focus (EF-S) technology?
Two, for a Canon micro motor lens that is not using UltraSonic Motor, I had a hard time making out the difference. When I first got the lens, I started wondering if it was a USM lens. It was so quiet and fast that it had to be. But I don't see the USM designation on the lens anywhere. And I didn't think Canon would package a USM lens as a kit lens. After digging around, I found that the kit lens is, indeed, not USM-based. It turned out that Canon makes four versions of this lens:
EF-S 18-55mm f/3.5-5.6
EF-S 18-55mm f/3.5-5.6 USM
EF-S 18-55mm f/3.5-5.6 II
EF-S 18-55mm f/3.5-5.6 II USM
Three, this zoom lens has an ultra-wide 18mm focal length. Most mediocre zoom kit lenses stop at 28mm. But Canon provided this ultra-wide focal length. Of course, you can argue that when used on a Canon digital SLR camera that supports EF-S lenses, you really only have an effective focal length of 29mm. So I'll have to counter that if you modify the lens by sawing off the EF-S mount at the end of the lens into an EF mount lens, you will have a very good 19mm ultra-wide kit lens on your Canon 35mm or digital full-frame SLR camera. 19mm? Yes. I have sawed off the back of the mount and tested on 35mm cameras (step-to-step instruction coming in the future; see an overview in one of the "Related Links" for now). When the lens is set to less than 19mm, the mirror hits the rear lens element. But the hacked lens is quite useable between the ranges of 19mm to 55mm. If you are willing to cut off the EF-S mount, then you can have a small and lightweight ultra-wide angle lens for your full-frame SLR camera.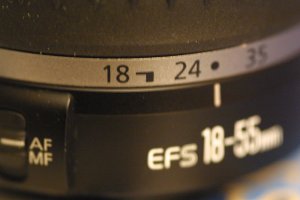 Tip
The Canon EF-S 18-55mm f/3.5-5.6 lens also has a special black dot marking at the ~28mm focal length setting. This marking is convenient as it shows the shortest extension of the front lens element.
Now that I have told you what is extraordinary about this lens, it's time for me to cover some other things that I'm sure you are interested in. For one, I alluded to its small and lightweight construction. The lens is made out of plastic. Everything, including the lens-mount and possibly even the lens elements are made out of plastic. The plastic material is the main reason to why the lens is so light. It is also extremely compact. Canon has attributed its compactness to the short-back focus (EF-S) technology. You can read more about this technology in the Canon Technical Report (see "Related Links" below).
The lens has a 58mm filter thread. This is probably the smallest filter thread that Canon could put on it without creating vignettes at 18mm. However, I was quite disappointed by this filter thread size. For a lens of this size and caliber, I would have expected a smaller 52mm filter size. Why am I so inclined to such size? I have the Canon EF 55-200mm f/4.5-5.6 USM lens. It is the perfect lens to compliment the 18-55mm kit lens, other than the fact that it has a 52mm filter thread. Plus, my other lenses of similar focal lengths and compact size, 50mm f/1.8 and 28mm f/2.8, all have 52mm filter sizes. Therefore, I would have expected this lens to use the smaller filter thread as well.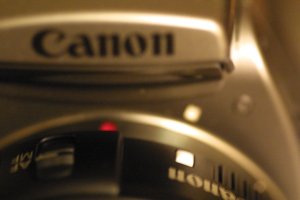 Like all Canon lenses, the Canon EF-S 18-55mm f/3.5-5.6 lens does not come with a lens hood. A lens hood is available as an option from Canon. Model number is EW-60C. The lens hood costs about $20. After buying it, I wondered if it was worth the price. The lens hood is only 0.75 inches deep. It makes me wonder if it really would eliminate any flare. I suppose it would help a little. Because the lens has a rotating front, Canon could not make a flower-shaped hood that would optimize coverage. Instead, Canon has to produce a shallow hood for the lowest common denominator focal length, which happens to be 18mm for this lens.
This lens is made specifically for the new EF-S mount cameras, such as the Digital Rebel, 300D, Kiss Digital, Digital Rebel XT, 350D, Kiss Digital N, and 20D. It has a new lens-mounting index that is shaped as white square off-center, which deviated from the tradition of a centered red circle. This new alignment marking is not a big deal if you are mounting in onto camera with the new EF-S mount. But if you are willing to hack your lens, like I had, then it takes a while to get used to aligning this lens on the regular EF mount.
Related Links
Articles
Hacks | Reviews | Tips
Tools | Help
Gifts By Price
$10000-above
$5000-$9999
$2000-$4999
$1000-$1999
$500-$999
$200-$499
$100-$199
$50-$99
$25-$49
$0-$24
Gift Certificate