Sima SL-9 3-Watt Video Light
The Sima SL-9 3-Watt Video Light is a self-powered, compact, independent light source for camcorders and cameras. This light source can be used to enhance existing light or assist focus on the subject.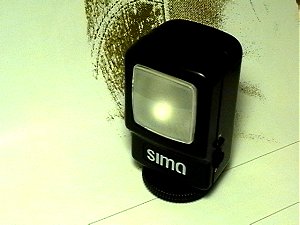 The Sima SL-9 video light may be mounted on an accessory shoe of a camcorder or hot shoe of a camera and can be secured with its included hot shoe thumbscrew. The thumbscrew is a real welcome feature, as I have a heavy electronic flash without the ability to tighten on the hot shoe and it makes me very uncomfortable tilting the camera. The Sima SL-9 is relative light and a tightening thumbscrew may not be necessary all the time, but this feature definitely adds security and comfort.
An awesome feature of this video light is that it uses two standard AAA NiMH batteries, which can be easily removed via a cover. This feature was a major selling point for me, and the reason are several folds: 1) batteries can be easily replaced if they ever become worn out; 2) standard AAA-sized batteries can be easily bought anywhere if supplies runs short in the field; 3) multiple pairs of these batteries can be charged beforehand for a full-day of photo or video shoot out in the field; 4) standard NiMH charger can be use to speed up battery charging, or if the on-board charger is broken.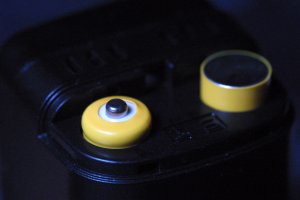 The Sima SL-9 also has a built-in NiMH charger for the batteries. And a supplied AC adapter can be plugged into the side of the SL-9. An LED lights up to indicate that the batteries are being charged. Unfortunately, the indicator will not turn off when the batteries are charged; therefore the user must remember to disconnect the power adapter. Based on the instruction manual, "the batteries must be charged 4 to 6 hours prior to use." In case anyone wants to use a generic AC-to-DC adapter, the supplied AC adapter plug has a positive center. The light will not work while charging; the AC adapter must be un-plugged for the light to turn on.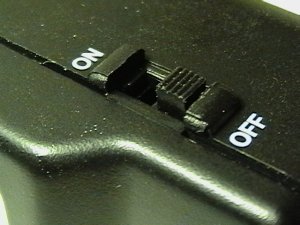 Two tabs surrounding the on/off switch prevent accidental toggle when carried in a pants pocket or fondled in a bag. A warning for replacing light bulb, in the instruction manual, indicates, "Touching bulb with bare fingers will damage bulb and cause bulb failure." The external lens of the light is of white milky color, obviously made to diffuse the light and to provide a softer image.
Overall the Sima SL-9 provides a independent light source in a very light and compact package. It is useful to light up a dark subject close to the camcorder or camera. It provides an excellent light source for macro shot and for focusing on the subject. But don't expect it to light up an entire room or provide primary light source for a distanced subject. A much stronger light source would be needed for that.
Specifications
Lamp:     3W halogen lamp
Power:    2 AAA NiMH batteries
Run Time: 20 to 25 min.
          with 600 MA hour NiMH batteries.
Charger:  120V AC input;
          3V DC output
Weight:   2.2 oz. (with batteries).
Size:     2.75" x 1.5"

Internals
I was shooting with my Canon D30 camera, Sigma 105mm f/2.8 EX lens, and the Sima SL-9 video light a few nights ago. While picking up the camera off my easy chair, the shoulder strap caught a corner of the chair, causing the camera to slip out of my hand. The camera, lens, and video light proceeded to drop a few feet to the carpet and rolled. The front plate of the Sima SL-9 light popped off. Upon closer examination, it was not broken, but rather, then front plate had been made to pop off easily for changing light bulbs. Since the cover was off, I decided to shoot a few pictures of the SL-9 internals for you to enjoy.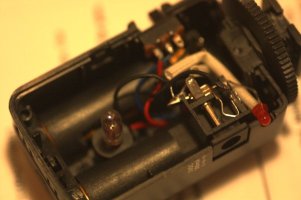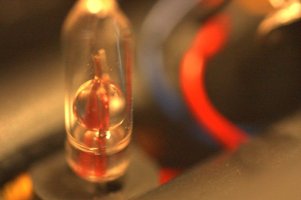 Related Links