Olympus C-2500L Serial Cable Pin-Out
The Olympus C-2500L digital camera uses a special cable to transfer images to the computer. The serial cable has a standard female 9-pin serial connector on one end, which connects to the serial port of the computer. The other end consists of a harder-to-find, but standard, 2.5 mm (sub-mini) audio head. The contacts on the head are lettered in the picture below.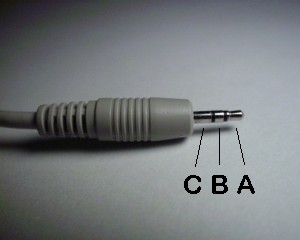 Contact A on the audio head wires directly to pin 2 on serial connector. Contact B connects directly to pin 5. And contact C connects directly to pin 3.
The serial cable is extremely simple. You will have a harder time finding the 2.5 mm audio head than putting everything together.
Related Links