Some thoughts on the Olympus Camedia C-2500L Digital Camera
After searching, on-line, for Olympus Camedia C-2500L resources, I noticed that there are plenty of digital camera reviews. In contrast, I have a really hard time finding reviews for Canon EOS cameras.
However, most of these reviews praise the Olympus C-2500L, and provide an overview of all its features in positive views. I was unable to find a more practical, experienced review of the camera. Therefore, in the same tradition of Camera Hacker reviews, rather than talking about all of the ''nifty'' features, I will provide my gripes and raves based on my daily experience with the camera.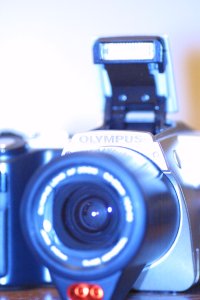 When my C-2500L camera arrived, I was pleasantly surprised to find that they had sent me the outfit, which included the Olympus 1.45x teleconverter lens. (I will provide more detail on this lens in another article.)
My first impression of this camera is that it is a lot smaller than I had imagined. The mode knob on the back is similar to my EOS cameras, though without shutter priority mode. I do have to admit that I hardly used that mode. But you will need it when you take waterfall pictures.
Unlike my EOS cameras, the viewfinder does not show exposure data. Instead the data is shown on the LCD panel on top. It makes checking exposure painful. The nice thing is that once the shutter button is pushed down halfway, the data is locked on the LCD display so it can be read after, or before, the shot. Also, the exposure data is stored with the picture so that it can be retrieved with the picture.
In wide-angle setting, the camera lens supports two apertures: f/2.8 and f/5.6. In telephoto setting, the lens supports these two apertures: f/3.9 and f/7.8. The camera really supports only two apertures, which means only two correct exposure combinations. (Yes, I know in artistic point of view there is no such concept as correct exposure.) Even in stopped down position, the lens is still closer to being wide open. Skip this camera if your work demand small aperture like f/16 or f/32. This camera simply can not do it. To me, this deficiency really kept the camera out of the professional league. I frequently use the following apertures in my own work: f/2.8, f/5.6, f/8, f/11, f/16, f/32, and f/45.
The camera support shutter speed from 8 seconds to 1/10000 of a second. It is a range that exceeds most professional 35 mm cameras. The camera also supports exposure compensation up to 2 EV in 1/3 EV steps. The operation of the exposure compensation is very similar to the EOS cameras -- press down one button and move the jog dial.
The built-in zoom lens of this camera is set-able from 9.2 to 28 mm. It is equivalent to 36 to 110 mm on a 35 mm camera. There is no indication of the zoom setting. The zoom knob also operates counter-intuitively. When it is pushed forward, the lens zooms to wide-angle. When it is pulled backward, the lens zooms to telephoto setting. After playing with this camera for a while, I noticed in wide-angle mode, the lens in the barrel is in the forward position. In telephoto mode, the lens is in the rear positon, matching the operation of the zoom knob. This camera is really designed by an engineer, rather than a photographer.
The lens on the camera has a 43 mm filter thread, allowing filters or step-up rings to be used. I will probably purchase step-up rings to use my existing filters. Since the AF illuminator is directly under the lens, it will be blocked by the step-up rings.
The camera allows manual focus, but provides only preset settings rather than continuous range. Settings can be specified in meters or feet. The allowable settings are 1 ft, 1.15 ft, 1.3 ft, 1.65 ft, 2 ft, 2.5 ft, 3.3 ft, 4 ft, 5 ft, 6.5 ft, 8 ft, 11 ft, 15 ft, 25 ft, 50 ft, and infinity. They are 0.3, 0.35, 0.4, 0.5, 0.6, 0.8, 1, 1.2, 1.5, 2, 2.5, 3.5, 5, 8, 15, and infinity in meters.
The camera comes with a built-in flash hot-shoe. It can accept a dedicated flash or a third party flash. It would be wonderful to shoot studio test shots with this camera before committing films to the shoot.
The C-2500L camera has a really fancy configuration screen. It is color and uses the display monitor. Needless to say, it eats up battery life. I would have been happy to configure the camera through the LCD, like my EOS cameras, and save the battery for shooting and flash coverage.
On the first night that I received the camera, I loaded it with four brand new alkaline batteries. After an hour, the batteries were dead! It really shocked me. I have heard that digital cameras drain battery, but only an hour of usage on brand new batteries!? In contrast, four brand new alkaline batteries last several months on my EOS film cameras. Luckily the package came with four AA nickel metal hydride (Ni-MH) batteries and charger. The Ni-MH batteries seems to last several hours longer than the alkaline batteries.
[Updated 2003-11-09] Over the years, I have grown to appreciate this camera's ability to use standard AA-sized batteries. I can find these batteries anywhere I go. Even though the alkaline batteries lasts only an hour, I can at least get a couple packs on the go and use them when needed. This feat is not possible with digital cameras that uses special battery packs, such as my Canon EOS D30 digital camera.
The package came with a 32 MB SmartMedia card. It is a real plus since other digital camera packages are still shipping 8 MB cards. Although the card can hold 32 MB of data, it can only hold four high resolution images; each image takes up seven megs of space. It will be a long time before I can take a single digital camera out to the field with me.
Transferring images to the computer through the serial cable provided takes an extremely long time. Each high-resolution image, about seven megabytes, takes ten minutes to download. Serial connections are inherently slow. It is extremely advisable to get an external SmartMedia or CompactFlash reader. Readers come in several interfaces, such as parallel, floppy, USB, PCMCIA, and SCSI. I seriously suggest you get one to download your images.
Although the C-2500L is marketed as a professional camera, it is far from professional. I do agree that it is the most professional digital camera you can get for one thousand dollars today (2000-4-5). But I can do far more on my two hundred dollars Canon EOS Rebel G 35mm film camera. This camera is really for the consumer, rather than the only camera for a photographer.
Some photos made with this camera
Body in Work
- Olympus C-2500L
Courtyard Companions
- Olympus C-2500L
P8120001
- Olympus C-2500L
P8120009
- Olympus C-2500L
Other people's comments and reviews of this camera
Other Resources
Genuine Olympus Accessories