Lenmar Mach 1 Speed Charger MSC1
Lenmar Mach 1 Speed Charger is an universal charger for 7.2 / 7.4 volt lithium ion (Li-Ion) camcorder and digital batteries. The charger came with four adapter plates. Each adapter plate allow a different set of batteries to be mounted to the charger base. Mine came with adapter plates to charge Canon, JVC, Panasonic, and Sony batteries (See full compatibility list later). I used the Canon plate to charge the Canon BP-511 battery for my Canon EOS D30 digital camera. More recently, I have started charging the Sony M-Series infoLithium battery for my Sony DCR-TRV350 camcorder. Both types of batteries charged flawlessly on this charger.



Estimated Battery Charge Times

Battery Capacity

Time to MAX Charge *

750 mAh

30 minutes

1200 mAh

39 minutes

1500 mAh

50 minutes

1850 mAh

65 minutes

2400 mAh

80 minutes

3700 mAh

118 minutes

5550 mAh

195 minutes

* Actual charge times may vary depending on the battery, internal protection circuits, cell capacity and condition.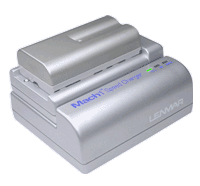 Three status-lights, made of LED's, indicates the charge state and progress. They are labeled as "MED", "HI", and "MAX". When no battery is attached, the "MED" light indicates that the charger is in standby. Once the battery is mounted on the charger, each of the three lights flash in sequence. As the charge completes each stage, the charger turns the respective light for that stage on continuously. When all three lights are on, the battery is charged.
I have noticed that when the battery is removed, the speed charger does not enter the standby mode right away. Sometimes it takes upward of ten seconds, which feels like an eternity. A few times, I have even unplugged the device to reset it manually and quickly.
The Mach 1 Speed Charger comes with a universal power supply that auto-switches in 110V-240V AC environment. In addition a DC cigarette lighter adapter is included and allows you to charge batteries while driving in your car. The manual was short and concise and very easy to read. The device is so easy to use that the manual can be skipped altogether. The manual also indicated three years of warranty. I did not have to use the warranty in the three years that I have owned it. Here are some battery tips from the manual:
For best battery life, we suggest recharging Li-Ion batteries after use and before storage.
It is not necessary or recommended to discharge a Li-Ion prior to charge.
Specifications
AC Adapter:    110 - 240 VAC, 50 / 60 Hz
Power Input:   12 - 18 VDC @ 1.7 A
Charge Method: Patented Neotherm Charging Technology
Charge Rate:   Variable, Continuously Adjusted via Microprocessor

Compatibility
Canon:     BP-511 / 512 / 522 / 535
Hitachi:   DZ-BP16 / BP28
           VMBPL13A / 27A / 30A / 60A
JVC:       BN-V408U / V416U / V428U / V812U / V814U
Panasonic: AGBP15P / 25
           CGP-D210 / D28S, CGR-120 / 220 / 320 B/202A1B / B/403AB /
           D08A/1B / D110 / D120 / D16A/1B / D210 / D220 / D28A/1B /
           D28S / D53A/1K / D815A / V812U / V814U
           PV-BP8 / DB5 / DBP5 / DBP8 / DBP9
           VM-VBD1
RCA:       BB-55L / 65L / 85L
Sony:      NP-530 / 730 / 930 / F330 / F550 / F550J / F730 /
           F730H / F750 / F750SP / F930 / F950 / F960 / FM30 /
           FM50 / FM70 / FM90 / FM91

Related Links
Discussion
Latest Discussion
All Discussions