Some thoughts on the Gear To Go CyberPix digital camera
aka Digital Concept Digital Camera
Recently, I saw the "Gear To Go CyberPix" has been renamed to "Digital Concept Digital Camera" at the local Wal-Mart. Instead of the silver finish, the Digital Concept version has a blue finish.
Do not buy this digital camera!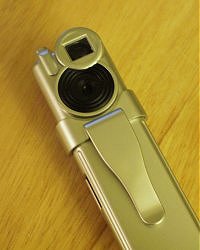 The Gear To Go CyberPix digital camera is a 3-in-1 device that serves three purposes: 1) digital camera; 2) PC web-cam; 3) digital video camera. It is a cool unique form-factor that looks like a pen. It looks very futuristic and sophisticated. The package includes a stand, a cable, a clip, a manual, and a CD-ROM.
The lens has a fixed focal length of 6.3mm (52 degrees field of view). Its maximum aperture is f/2.8. It supports a shutter speed between the range of 1/6 to 1/15000 of a second. Not bad!
The quality of the lens is not the best. It is sharp in the middle, but becomes extremely soft toward the edge. But perfectly useable for my purpose (explained later).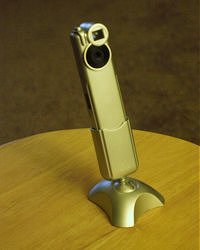 Its sensor has a resolution of 352x288 and can shoot at a lower resolution of 176x144 pixels. With its 16MB of SDRAM, it can store 19 pictures at its highest resolution and lowest compression. External storage can not be used.
Two AAA-sized batteries power the operation and the memory storage of this camera. An USB port allows the user to connect the camera to the computer and download the images and footages. The USB port is version 1.1 compliant and has the same connector on both side of the cable (one oddity).
Despite the low resolution, the specification for this camera is not bad for its price. I picked it up at a local department store for less than twenty bucks. It would be a fun device to leave in my car and grab snap shots when I want to.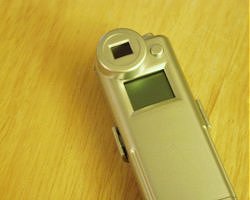 Where it really falls apart is the constant system crashes I experience with this camera. I can shoot with this camera all I want, turn it on and off, play with its features. But every so often, actually all the time, the camera would hang and not turn on. The only way to get it to operate again is to remove the batteries and put them back in. It resets the camera. Since the batteries power the storage, all of the pictures taken are lost!
I have yet to download any pictures I captured. They are all lost. I have basically stopped using this camera. My friend asked me to give him this camera. I will. I am baffled why he wants it. A camera that can not retain pictures is worthless. Maybe he wants to use it as a web-cam. I guess that will work perfectly fine.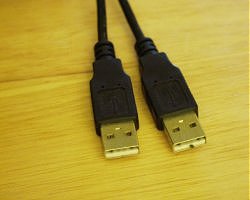 The camera did not have any manufacturer's name imprinted on it. Perhaps the manufacturer is too embarrassed to do so. However, I have found the name Sakar on the CD-ROM included. I went to its web-site and managed to find drivers and manuals for this camera. They did not have any support on how to resolve the hanging issue.
For me, the lesson learnt is not necessarily the need to buy high-quality, expensive cameras. But rather, the lesson is to buy only digital cameras that support non-volatile memory storage. A non-volatile external storage, such CompactFlash and SmartMedia, is even better. With non-volatile storage, even when the battery is removed, the memory is not erased.
I think there is a 640x480 version of this camera. I have not tried it.
Related Links