PMA 2003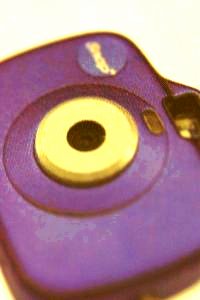 I was at the Photo Marketing Association convention, or PMA, this past weekend. There were several new innovations that really caught my eyes. The first thing that caught my eyes are the miniature cameras. There were two companies that displayed these miniature cameras: 1) Karl-Star Industrial Co., LTD.; and 2) NH Group of Companies. The dimension of the Karl-Star cameras are on the scale of 1.97" x 1.5" x 0.3", while NH Group cameras are 2" x 1.59" x 0.87" and 2.37" x 1.5" x 0.67". All of these miniature cameras connect via mini-USB. The cameras' picture resolution is 640x480 and video resolution is 320x240. These cameras featured auto exposure and auto white balance. One even comes with an attachable flash. I like the fact that some allows you to wear around your neck like jewelry.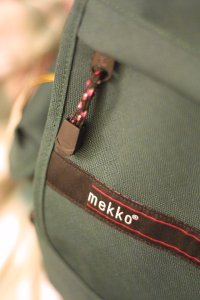 Next, I spotted some very nice camera photo bags from mekko. I noticed they have about fifty (50!) different variations of camera bags, from backpacks to shoulder bags to waist bags. They vary by size from small to large and vary by style from practical to flamboyant. I experimented by fitting my digital SLR camera and accessories into their backpacks. It was very organized and easy to retrieve equipment. Their design and quality is comparable to Tamrac and LowePro bags. Best of all, they are planning to start distributing in the U.S. at very inexpensive prices. Look for them!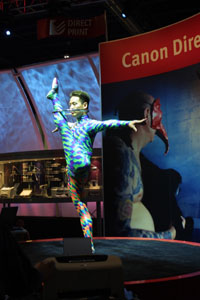 Of Course, I simply cannot go to PMA without visiting my favorite camera manufacturer, Canon. And once again, they surprised me with their new offerings and some unthinkable prices. They showed the Canon EOS 10D, successor to Canon EOS D60, which is a successor to Canon EOS D30. It appears that they have finally gone back to their traditional method of naming camera models. The first feature that I noticed is the ISO 1600 that is not available on the D60. Even D30 has support for ISO 1600. I never cared much for the D60 since it lacked the high ISO capability. Now I am starting to think I might need the 10D. And most surprisingly is the $1500 street price. I will post the technical specification of the 10D later, in a different article.
I was also quite surprised to see an introduction of Canon EOS Rebel G II. I have thought that the successor to the Rebel G was the Canon EOS Rebel Ti. It was strange to see both the Canon EOS Rebel G II and Canon EOS Rebel Ti being shown at the same time. The Rebel G II has the more traditional look of the Rebel G, but the top face slants down toward the user like the Rebel Ti. It will be interesting to see the two cameras battle it out in feature and style.
Related Links
Discussion
Latest Discussion
All Discussions