Lexar Media 64 MB 4X USB Enabled CompactFlash
Recently I purchased a Lexar Media 64 MB 4X USB Enabled CompactFlash to expand the storage capacity of my Olympus C-2500L digital camera. When I shoot pictures with my digital camera, I always use the highest image quality mode, because I am never sure what I will do with the final result. By shooting photographs in the highest resolution mode, I will have my bases covered. The Olympus C-2500L digital camera generate 7 MB high-resolution images in TIFF format, so each 64 MB CompactFlash can only hold 9 images. But the real beauty of this storage card is that it is USB-enabled.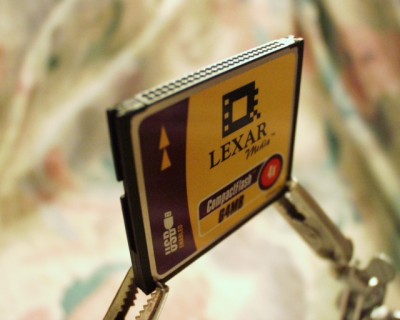 USB-enabled CompactFlash cards can be plugged into the USB port on the computer through an USB adapter. Lexar Media is generous enough to provide a free USB adapter called jumpSHOT with the CompactFlash card that I purchased. I love it because now I can transfer a 7 MB image to my computer in a few seconds through the USB port. I use to transfer my images through the serial port and that took 10 minutes per image. Nine images and that accumulate to an hour and a half. With the jumpSHOT interface, I can transfer nine images in less than half a minute. Now, that's fast!
I have a Sony Vaio SuperSlim notebook with built-in USB port. Using the jumpSHOT cable, I can easily transfer images to my computer in the field and keep my storage media blank to shoot more pictures.
Bonus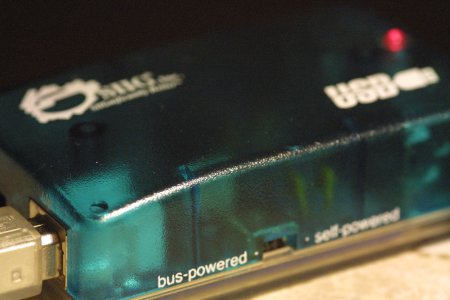 Even more recently, I found out that the jumpShot adapter could operate with my USB hub in bus-powered mode, whereas my other USB memory card readers can not. You see, the USB 1.1 specification allows the USB connection to operate in two different modes: bus-powered and self-powered. In bus-powered, the hub uses the power directly from the parent USB port, but operates at lower data transfer rate of 1.5 Mbps. In self-powered mode, the hub draws power from an 5V external power source and operates at a higher data transfer rate of 12 Mbps. I have a Sony notebook came with a single USB port, so I have to use a hub to use a mouse with any other USB devices. The SIIG USB MiniHub 4000P is a really tiny device and quite convenient for me to carry around with my notebook. Its power transformer is huge and heavy, therefore, I usually leave it at home. So far, all of the other USB memory card readers will not work with this hub in bus-powered mode, except for the jumpShot adapter. Needless to say, I have been using Lexar Media's USB-Enabled CompactFlash's a lot more recently.
Related Links
Related Reviews
Discussion
Latest Discussion
All Discussions