Some thoughts on the Canon EF 85mm f/1.8 USM lens
The Canon EF 85mm f/1.8 USM lens has many features that I wish my Canon EF 50mm f/1.8 II lens had. It has the following features lacking in the 50mm lens: 1) the ultra-quiet, ultra-fast, and ultra-discreet USM focus mechanism; 2) the AF/MF switch that works easily, smoothly, and consistently; 3) the non-rotating, internal focusing front.
As I mentioned in the 50mm lens review article, Canon's Micro-Motor is noisy and hunts quite a bit. It is hard to be discreet in a quiet social gathering when the lens is filling the room with motor whine because it is hunting back and fort trying to obtain a focus that it never finds. Canon's USM on the 85mm lens resolved all of those problems, and I can obtain focus quickly and discreetly with confidence.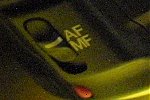 On the 50mm lens, the AF/MF switch is hard to push. Sometimes the lens gets stuck in one mode or another stubbornly. On the other hand, the switch on the 85mm lens works consistently every time. A slight push on the switch toggles the lens into the other mode instantly.
I praised the non-rotating front on the 50mm lens. But is only designed 50% right. The missing 50% is the internal focusing mechanism. The 50mm lens has an external focus mechanism, so while focusing, the front lens element and filter thread moves in and out. This motion becomes a problem when attaching a heavy accessory to the front filter thread. For example, with my Kenko KVC 0.5x Pro Wide Converter I can really feel the strain on the Micro-Motor. The 85mm lens does not have this problem, because the front lens element and filter thread is fixed. Focusing occurs within the lens.
Despite all the desirable features on this lens, there is one shortcoming I can do without. The minimal focus distance on this lens is 2.8 feet; providing a magnification of 1:7. This distance is a bit too far for my taste. I was hoping I could use this lens as a low-light pseudo-macro lens. Unfortunately, this deficiency shattered my hope. I will have to live with my Sigma 105mm f/2.8 EX Macro lens for macro work and my Canon EF 50mm f/1.8 II lens for low-light pseudo-macro lens.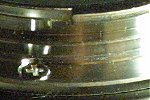 The filter thread on this lens is 58mm and uses the Canon ET-65 II lens hood, which is not included. It is at least twice as heavy as the 50mm lens; probably due to a much sturdier construction. The lens mount is made out of metal.
In daylight or pseudo-macro situations, this lens is not as useful as my other general-purpose zoom lens. In fact, my Canon EF 28-135mm f/3.5-5.6 IS USM lens is a much better as a pseudo-macro lens in low light. However, the Canon EF 85mm f/1.8 USM lens is a good low-light general-purpose lens, especially with people. I use this lens at many indoor social gatherings with good results. The quiet USM focus keeps the atmosphere of a quiet conversation intact. The fast focus operation of the USM also reduces hunting in low light, allowing me to capture facial expressions with ease. Both of these virtues are lacking on my Canon EF 50mm f/1.8 II lens and my Sigma 105mm f/2.8 EX Macro lens. The Canon EF 85mm f/1.8 USM lens is a good member of a lens collection for those discreet social situations.
Reviews